Edward standing outside the Treasury Building, Petra. March 1996.
New Year 1996 - R&R to Dubai
As life is clearly so hard in Jeddah we are allowed two R&Rs (rest and recreation breaks) at the company expense per year. This is in addition to our annual home leave to England. R&Rs have to be reasonably close to Saudi so we chose Dubai, where we were on holiday last year.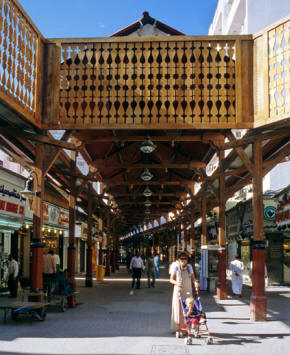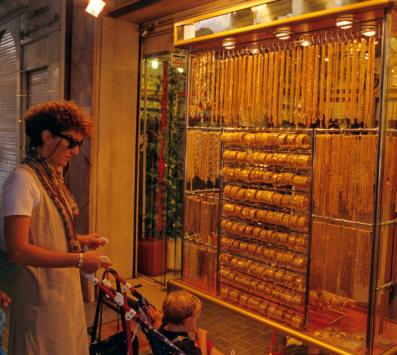 Dubai Gold Souq Wistful looks....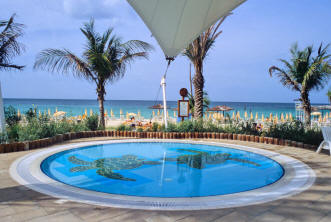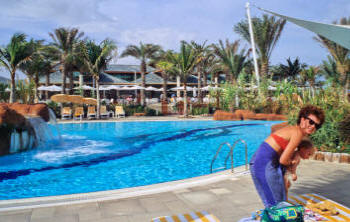 Hilton Beach Club Resort, Dubai - January 1996
We stayed at the Hilton hotel which has its own beach resort. This was all very nice but I'm embarrassed to admit that the pools and sea were not much better than the facilities in Jeddah. It was a relief to have real wine, beer, Marks and Spencer's and cinemas however. A welcome break before returning to the hardships of luxury compound life in Jeddah.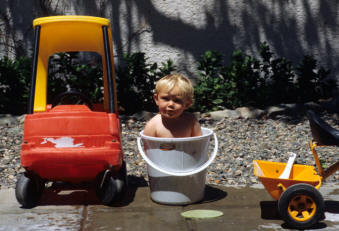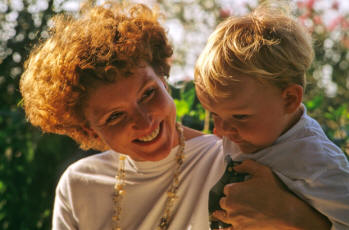 Edward takes a bath in our Jeddah Garden Mother and baby
February 1996 - Trip to Abha, South West Saudi Arabia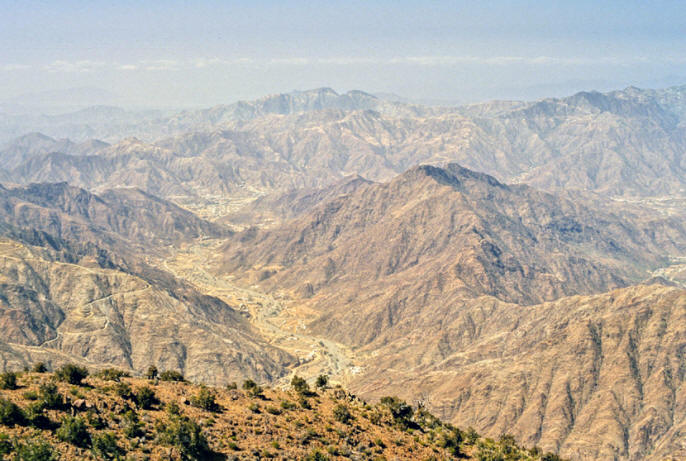 Views on the Road to Baha
Since living in Saudi with my parents in the 1970s I'd always wanted to visit the South West, where there are mountains, tropical birds, wild monkeys and a different culture. The most interesting route would be to drive from Jeddah to Taif and then drive along the top of the mountain range to Abha, stopping the night in Baha on the way. This would give some spectacular views of the mountain range and the western deserts of Saudi Arabia. Before the Ramadan Eid break I put a notice up in the compound stating my plans and asking if anybody wished to join us. We got a group of over 20 people together.
Just before I left for Abha I had a phone call from my Boss. The merger between my company and another had finally started to affect us in the Middle East and he had been made redundant on 14th February. He called it "The St. Valentine's Day Massacre". I was sure that the way things were going that the rest of our people in the region would be next, including me, so I thought it best to make the most of my time in the country.

Road to Baha. Camels feed on the new grass after the spring rains.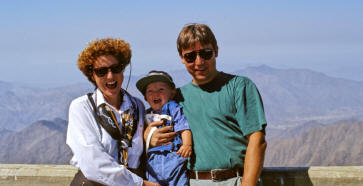 Road to Baha Baha Palace Hotel
We saw the expected spectacular views but around dusk a heavy fog fell, leaving us to drive the final few hours on top of the mountain range with 5 yards of vision. This was disconcerting as the road was dark, narrow, high and winding. Friendly locals in Baha actually led us up another winding road to the hotel, because in the fog we had no way of finding it.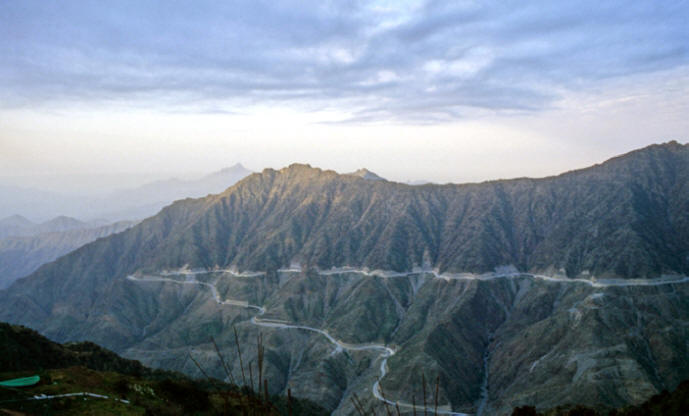 Winding Road to Baha - we drove this in thick fog.
The view from the hotel next morning was stunning and gave us a clear picture of the road we took in heavy fog the previous night. The houses in Baha all had heavy bars on the windows. As we discovered this was not due to high crime levels (Saudi has very little theft) but to keep the wild monkeys out!
We set off the next day along the mountain range towards Abha. Here mountains soared to over 10,000 feet and there is enough rain to keep the land fertile without irrigation.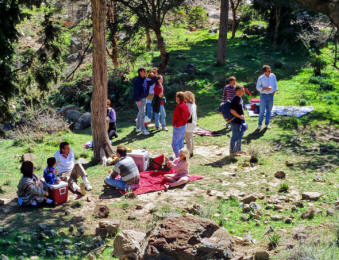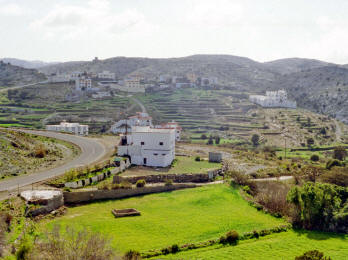 Picnic on the way to Abha
As this was the holy month of Ramadan, all the locals were fasting during the day. We were caught buying bread in a local town and the police escorted us out in case we decided to eat it in public. We ended up hiding in the woods to eat our picnic.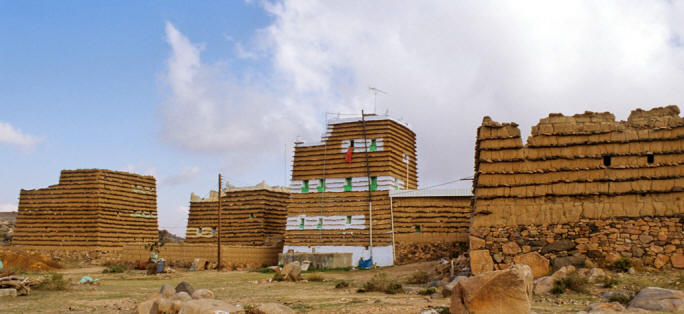 Abha Architecture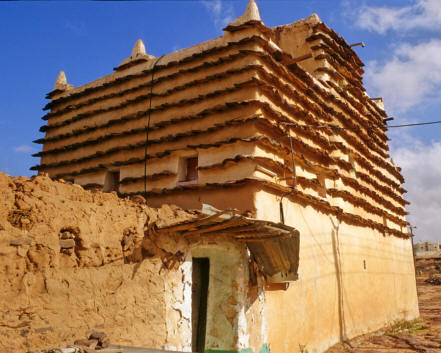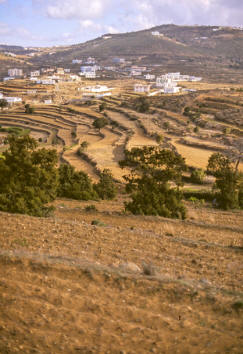 Abha Architecture Fertile Terraces
The architecture here is reminiscent of African styles. Many are made of mud and still inhabited by the locals. The stone ribbing is designed to protect the mud from being washed away by the rain. The features of the people also look more African or Yemeni here. We also noticed there were colourful tropical birds from Africa as well as the wild monkeys. Africa is just a short hop over the Red Sea from this region.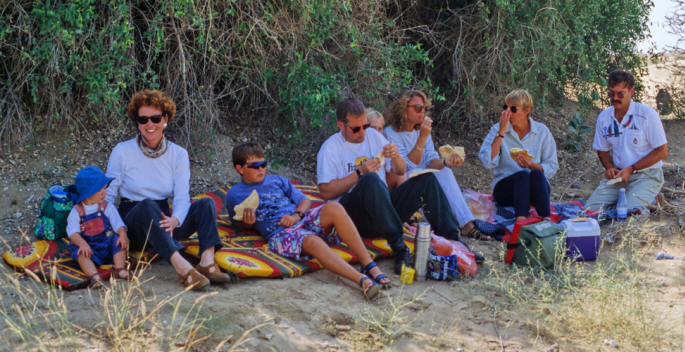 Another Picnic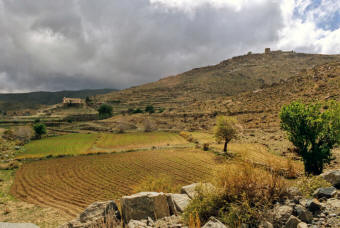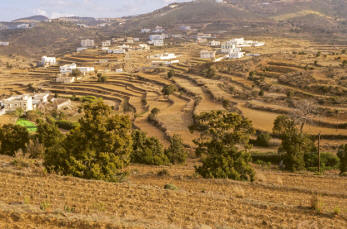 Landscape is very different from the harsh desert around Riyadh.
I had booked the group into the Abha Intercontinental Hotel. We've used this as a conference facility and it must be one of the most spectacular settings of a hotel anywhere in the world. It is a sprawling converted Palace and has one huge domed conference room which seats nearly 600 plus interpreters. Most of the year the hotel is virtually deserted, but makes its money from one or two giant conferences. Other than us, it had less than a dozen guests when we were there and we rattled around in its great facilities. We even negotiated with the staff to allow the women to use the swimming pool - usually not allowed in Saudi - although they insisted the women swim alone, locked the facilities during their swim and insisted on cleaning the pool afterwards! The hotel is spectacularly situated on top of Mount Sodha, at 10,000 feet elevation and facing west towards the sun as it sets over the Red Sea.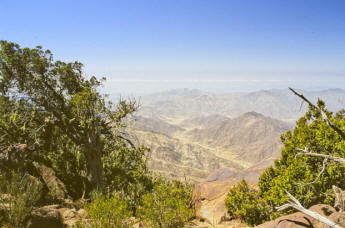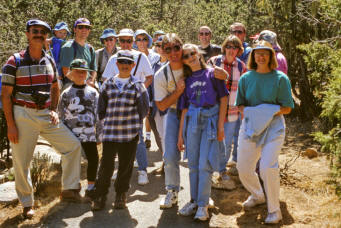 Team Walk around the National Park around Mount Sodah (Sodah is Arabic for "black").
Another great attraction in the area is Habalah or otherwise known as the "Hanging Village". The name Habalah comes from Arabic word "habl" meaning "rope". The inhabitants had to reach their village by rope ladders. Now a cable car takes tourists down. This tribe had originally been spotted by a helicopter working for a mining research centre at the foot of perilous cliff. This village was inhabited until very recently and was home to a group of people who enjoyed the security of literally living on a cliff face. Apparently they first came here whilst fleeing from the Turks.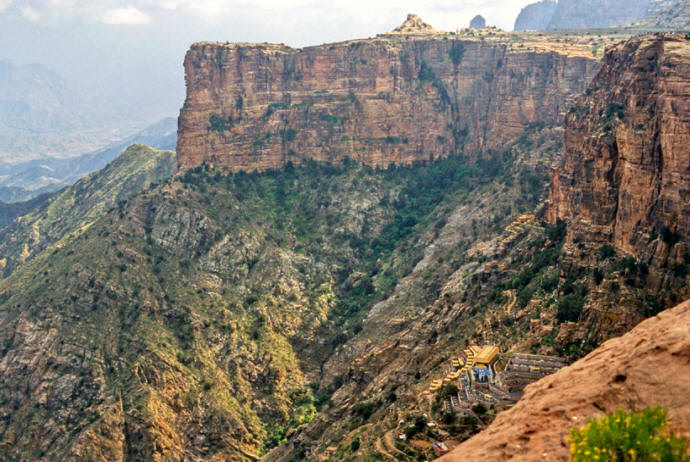 Cable Car Descends to Habalah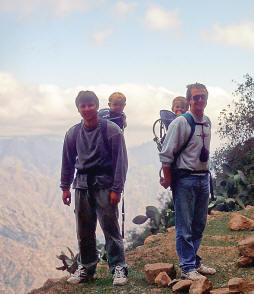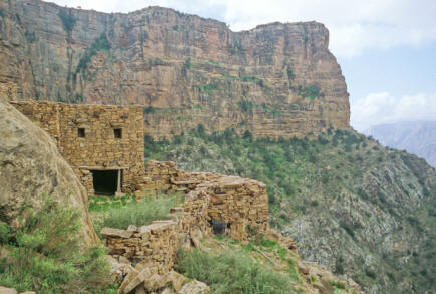 Safe child transport at the "Hanging Village"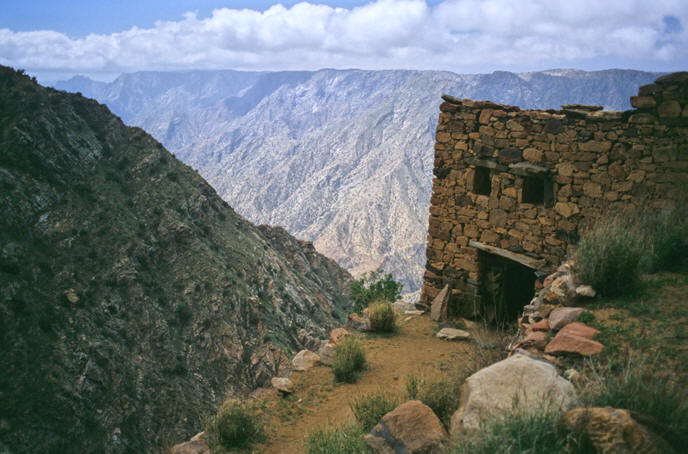 Life on the edge....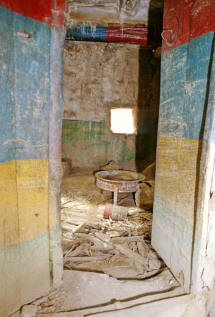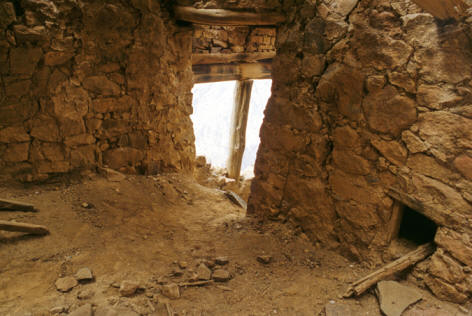 Interior of some dwellings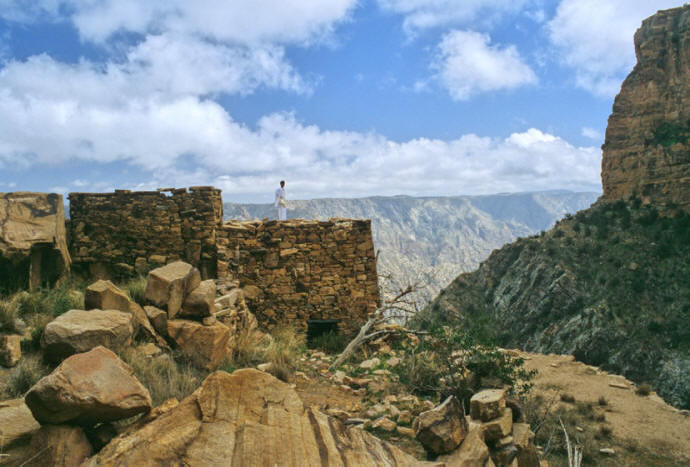 A Saudi local admiring the view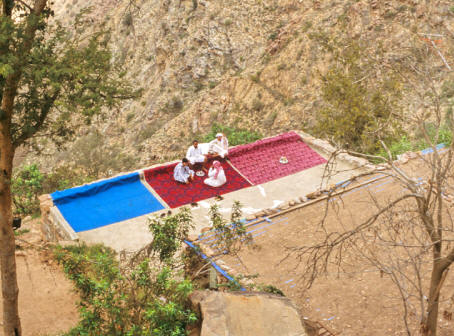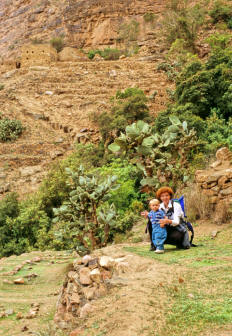 Picnic on the edge of a cliff Clair and Edward
Despite the precariousness of the village, there was plenty of water and fertile land. Many terraces remain where they must have grown their food.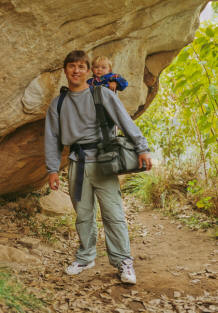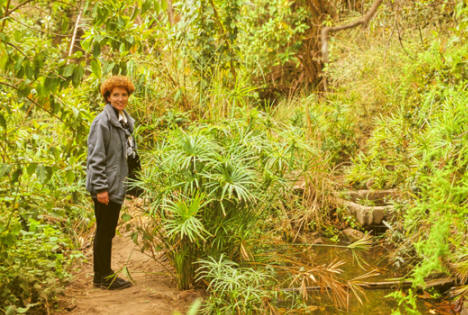 Plenty of rainfall keeps the land fertile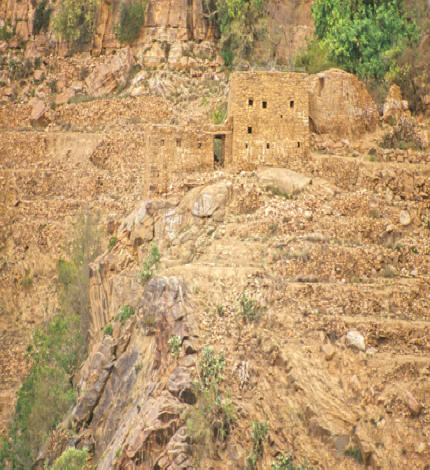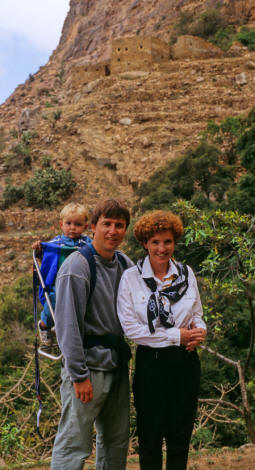 Habalah or "Hanging Village".
Spring 1996 - Holiday in Jordan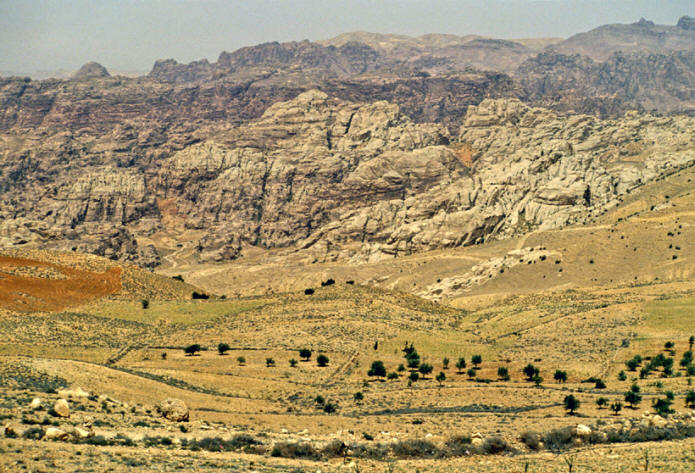 Jordan
The Haj break in March gave us the chance to drive to Jordan. The last time I visited Jordan was in 1975. I was living in Baghdad with my parents at the time and we drove there for a holiday. I celebrated my 13th birthday on a beach in Aqaba, but particularly remembered the spectacular ruins in Petra and also Wadi Rum, where T.E. Lawrence amassed his troops before sacking Aqaba in 1916. Lawrence crossed the Nephud desert, thought an almost impossible task at the time, allowing him to attack the Turkish stronghold in Aqaba from the rear. The huge Turkish guns in Aqaba pointed out to sea, the only direction from which they thought an enemy could invade, and they were unable to turn them round to fire on Lawrence and his heroic Arab army. Some of David Lean's "Lawrence of Arabia" was shot here - one of the greatest films of all time.
Clair is quite pregnant now, with a baby due in August. As we planned the trip with another couple, who were similarly pregnant, we decided to put the car on a trailer and send it over night to Tabuk, a town near the Jordanian border. This allowed us to fly there the next day, collect the car and drive to Amman. This saved us a day's arduous drive through the boring northern deserts of Saudi Arabia.
The prize for the most friendly border guards in the world goes to the Jordanians on the Saudi - Jordan border, who personally made us tea and smiled and chatted pleasantly about the great sights in their country whilst processing our documents. This was a real contrast to the suspicion we usually receive from Saudi officials.
We booked into our Hotel in Amman, drank some real wine (what a relief) and next day headed north for the Roman ruins of Jerash - possibly the best Roman ruins I have seen outside Ephesus.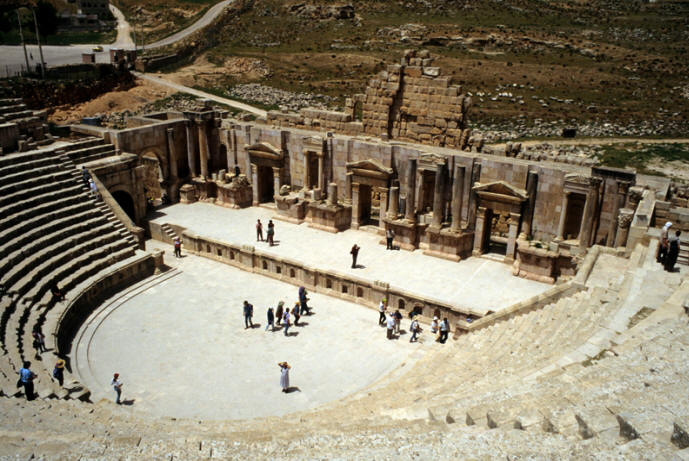 Clair performs at the Roman Ruins in Jerash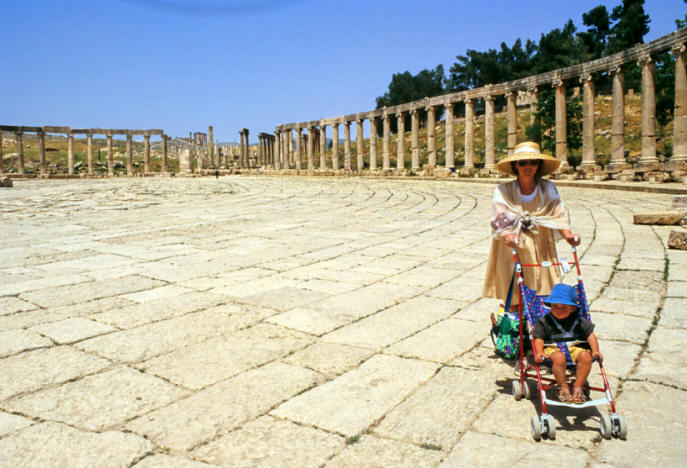 Jerash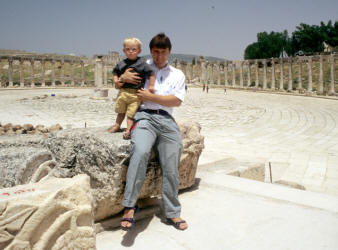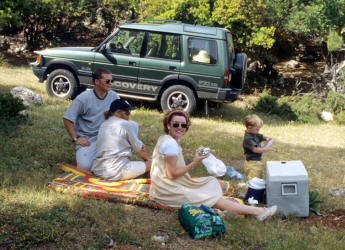 Roman Ruins in Jerash Picnic in Forest of Debeen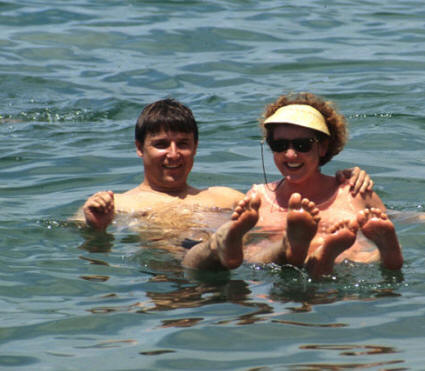 Floating like corks in the Dead Sea The Dead Sea Mud is very healthy (or so he told her...)
I remember a trip to the Dead Sea when I was 13 but nothing prepares you for a gentle walk into the sterile, salty water. As the water reaches your waist and you are unceremoniously popped up like a cork, no longer able to stay on your feet. So long as you have no cuts, nicks or grazes (which string like mad in the heavily salted water) this can be a very relaxing experience. Locals sell buckets of Dead Sea mud, which has supposed health properties, and will even apply it to you as part of the service.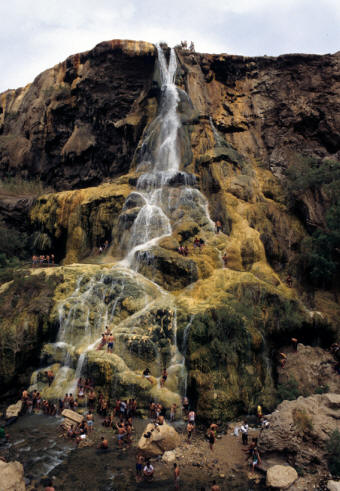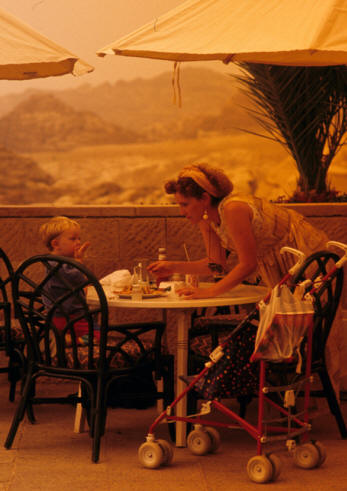 Natural Hot springs and Waterfall, Ma'in "Would Sir like Ketchup with his chips?"
The natural hot springs in Ma'in appears to be an all male affair. No women had the nerve to strip off and join the men. The water is so hot it is only just bearable to touch.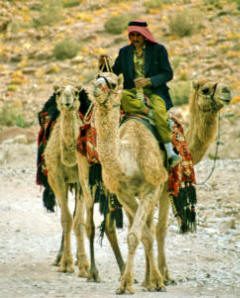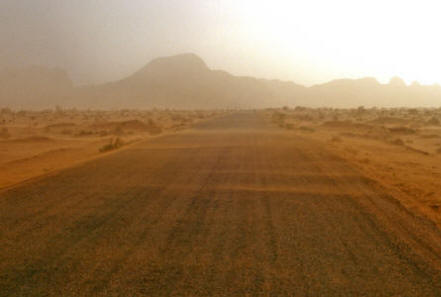 Camel Train Wadi Rum Sandstorm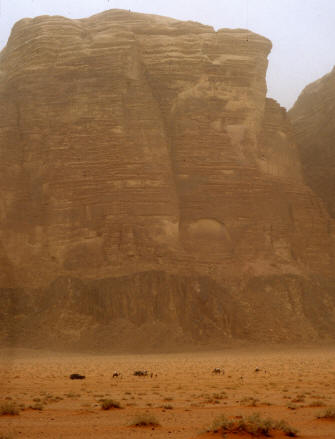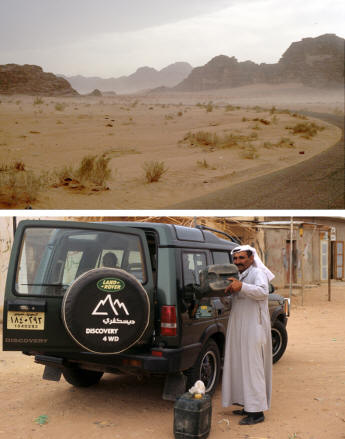 4X4 and Camel Train in Wadi Rum Filling up in Diesel
Having previously visited Wadi Rum in 1975 I was looking forward to some spectacular desert scenery, some T.E. Lawrence history and a true Bedouin experience. On leaving our hotel I asked the occupants of my Land Rover to look out for a petrol station. Petrol stations in Jordan are very primitive and easy to miss. Needless to say we all forgot and ended up in the middle of the desert, miles from anywhere, during a sandstorm with the petrol gauge stuck on zero. With no food and two pregnant women in the car this was serious. We found a lone soldier at a check point and asked for some "benzene" (petrol). He seemed to understand and pointed ahead and said "Diesel, 5 Km". As my Land Rover has a petrol engine this sounded a little dubious (would they sell petrol as well?) but we had no choice and headed in his suggested direction. You can imagine my concern when, with the petrol gauge now showing less than zero, we arrived at a small village called "Diesel". We drove around this primitive collection of mud huts totally forlorn, until my eagle eyed friend spotted a mud hut with some jerry cans outside. This turned out to be the local petrol station, and for a price we were saved.
Petra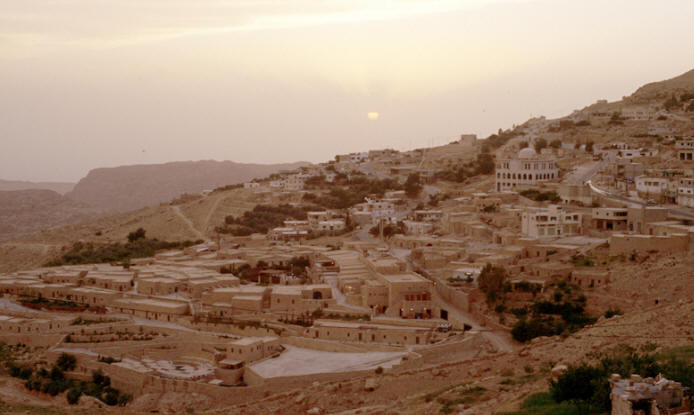 Road to Petra
After a disappointing trip to Aqaba (which seems to have become a commercial port with all the magnetism of Grimsby) we headed to Petra and checked into the Intercontinental.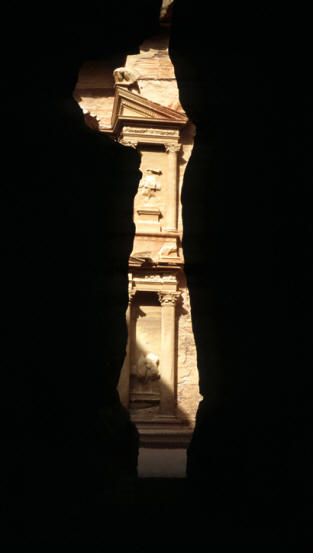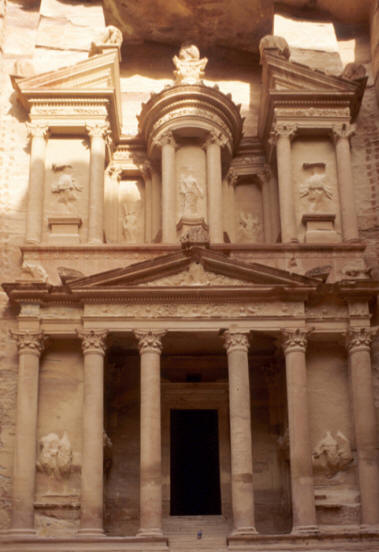 Treasury Building, Petra Edward climbs the steps of the Treasury Building
Petra is an ancient city literally hewn out of solid, beautiful, rose coloured rock. The first time I went there I was able to go through the narrow gorge and explore the ruins entirely on horse back and only shared it with my four little sisters, parents and about 25 tourists. Twenty one years later it has caught on as a tourist attraction, and gets literally thousands of visitors a week. For a small fortune you can ride a horse part of the way to the main site and share it with the whole world and his dog. However the first glimpse of the treasury building as you emerge from the narrow canyon is unforgettable. It took us two days to see the main attractions.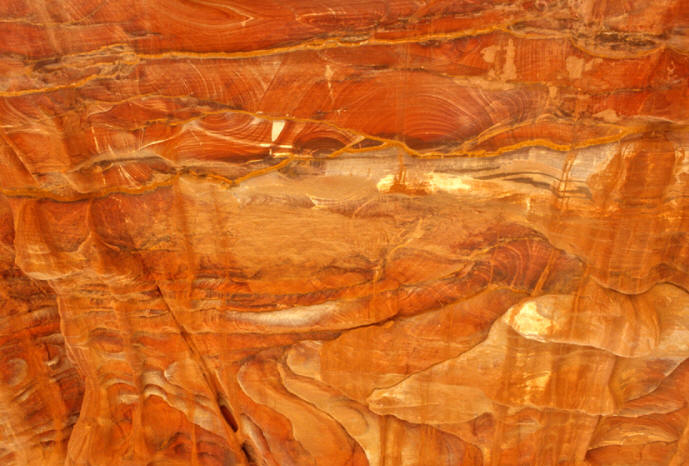 Petra stone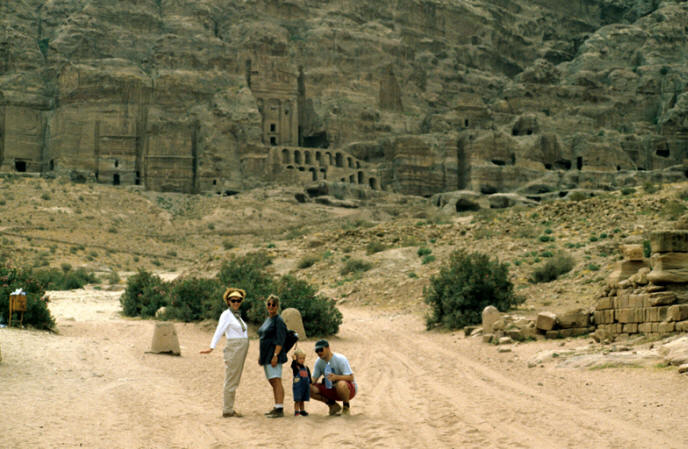 Pregnant women compare bumps in the ancient city of Petra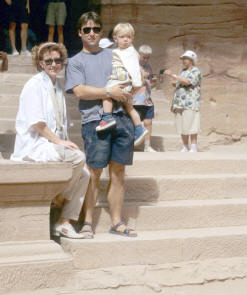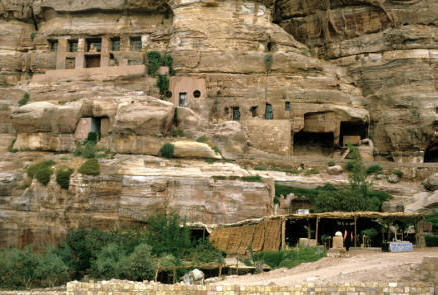 Petra... ....people still live here...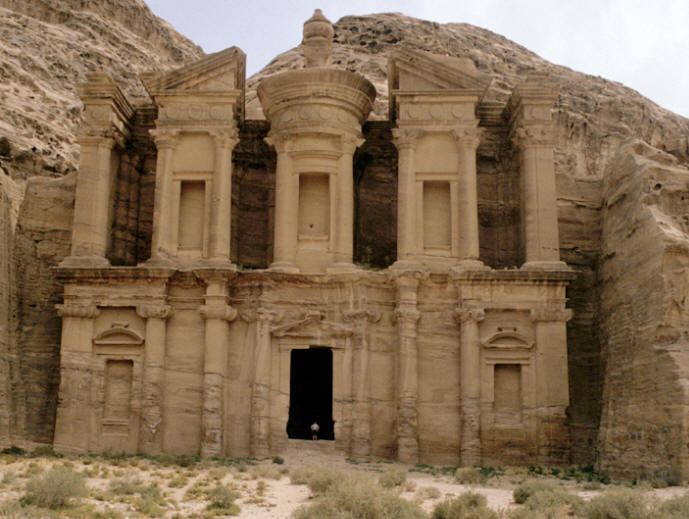 Monastery Building, Petra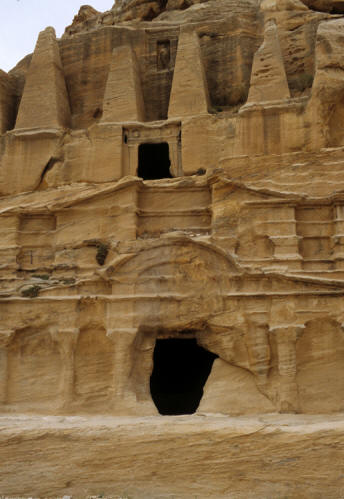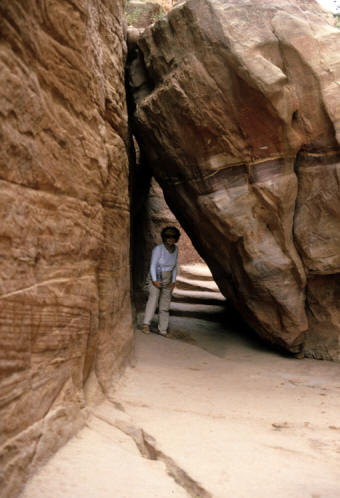 Petra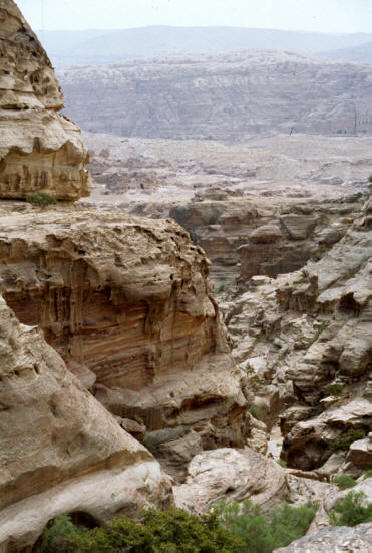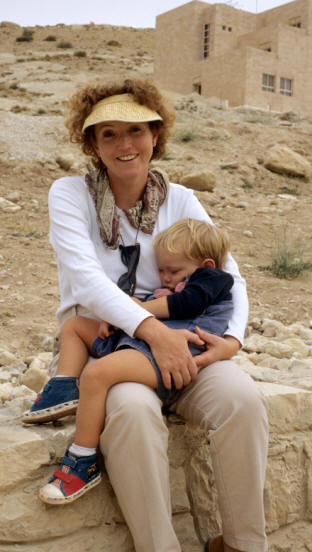 Petra A hard day for a little boy.
Contrast the friendly Jordanian border guards with the Saudis on our return journey. The car was completely stripped of its luggage and seats by Saudi Customs; they then let a couple of poorly trained dogs slobber all over the upholstery whilst smelling for explosives or drugs. As Clair and her friend were pregnant and tired they stayed in the car whilst I processed their re-entry visas and passports at the immigration building. I managed to do this without a single Saudi official looking at them or even asking to see them. I could have smuggled half a dozen people into the country for all they knew.
Summer 1996 - Tax exiles in Jersey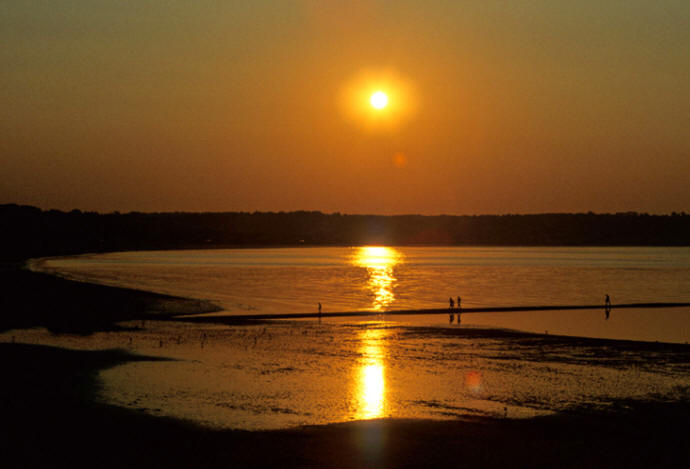 Jersey Sunset
The inevitable happened in early summer. My company has been merging with another and they, not we, got control of Europe and Middle East. All the Middle East employees from my company were made redundant, including myself. Before Clair and I left England last year we had two good jobs, company cars, a nice house in Manchester and a superb Nanny. We returned this year with no jobs, no Nanny, no cars and our house was rented out for 12 months so we had nowhere to live. To compound matters Clair was 8 months pregnant. On the bright side I had an excellent severance package which included a financial consultation with Arthur Andersen tax advisers on my return to England. Andersen's promptly informed me that I had returned home too soon and needed to spend another month outside the UK or my company would have to pay income tax on my salary in Saudi (I was tax equalised) and I would have to pay tax on my severance pay. A quick calculation and then a phone call to my company's HR manager and it was soon agreed that it would be cost effective for the company to put us in a hotel in the beautiful British tax haven island of Jersey for 31 nights. They agreed to pay all travel, accommodation and meals (including wine) but, inexplicably, not laundry. Still - a free month's holiday - great! We just needed to quickly buy a car and catch the ferry......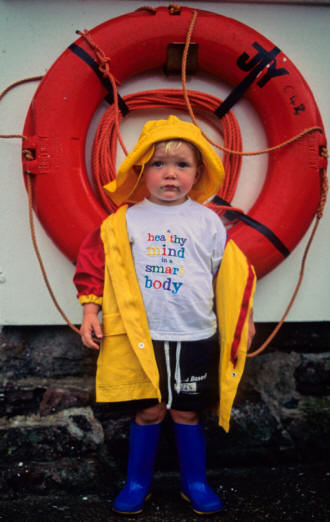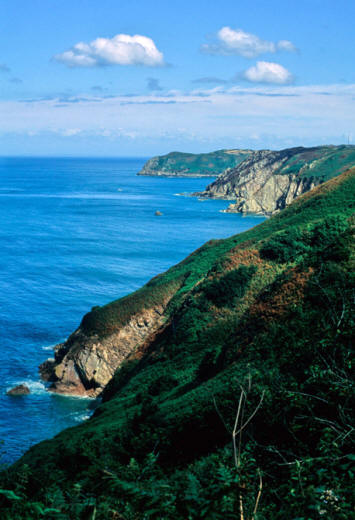 Fisherman Edward Cliff Walk
Jersey is part of the English Channel Islands and has been affiliated with the UK since 1066. Even though Jersey is only 14 miles off the French coast it has never belonged to France. The Channel Islands once belonged to William, Duke of Normandy, and as it was he who conquered England in 1066 the islanders claim that England is part of the Channel Islands, not the other way round. However being closer to France than England it has had a distinctive French flavour for much of its history. Basically Jersey is a succession of pretty old villages and stunning beaches with the best weather in the UK. It has become a tax haven for the rich and an exclusive holiday resort for the lucky.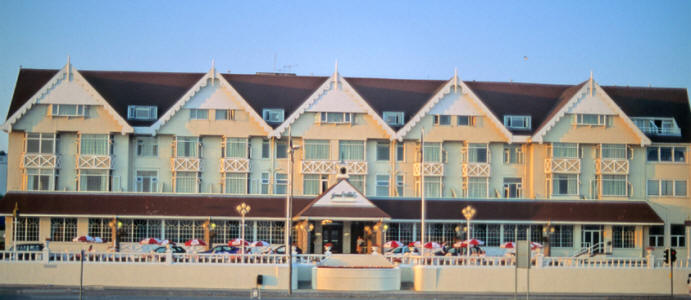 Grand Hotel, St. Helier
We stayed at the Grand Hotel, which had an excellent sea front location and arguably the best restaurant in St. Helier.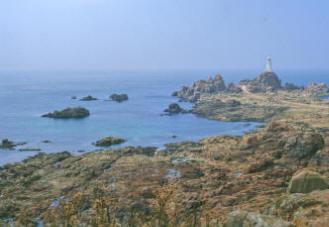 Light house Flower Festival Float
We were in Jersey for their annual Battle of Flowers. Each village submits a float to the competition which is made from local freshly cut flowers. These were very artistic and on a huge scale. Apparently contestants work through the night to deck the floats with flowers so that they don't wilt before the competition.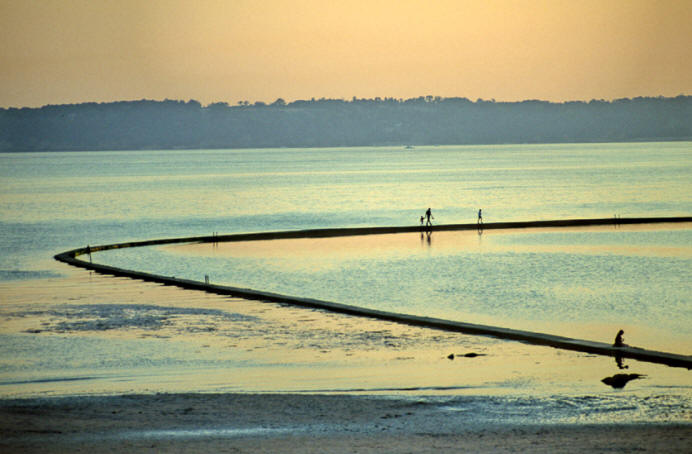 St. Aubin's Bay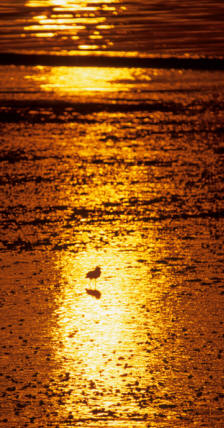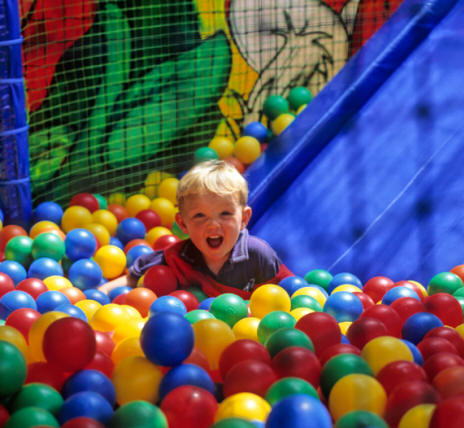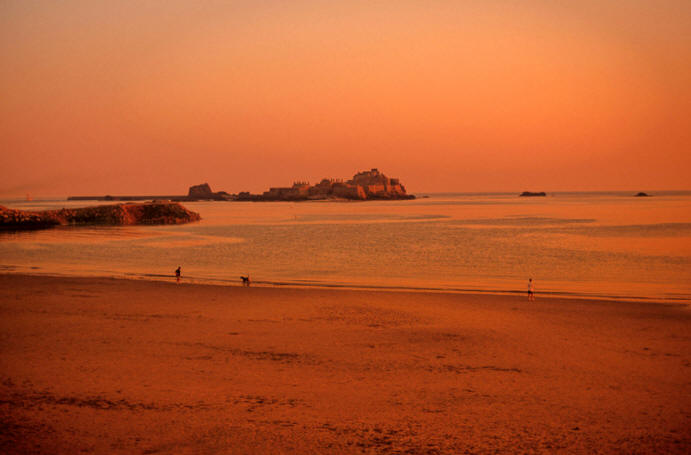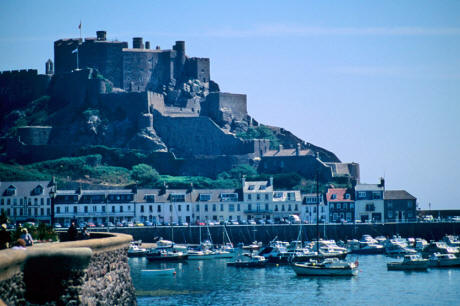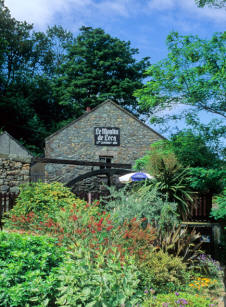 Gorey Bay - Mont Orgueil Castle Le Moulin de Lecq - 12th Century Inn

High Speed Ferry to the mainland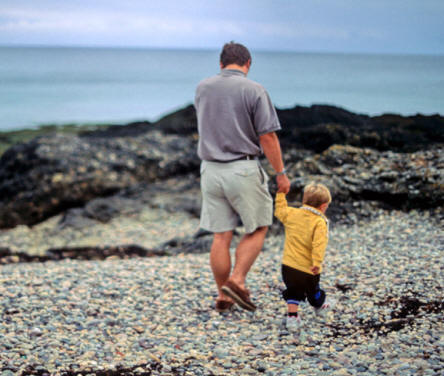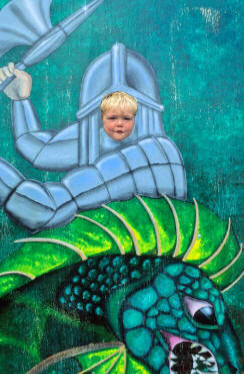 Dad and Son take a stroll Sir Edward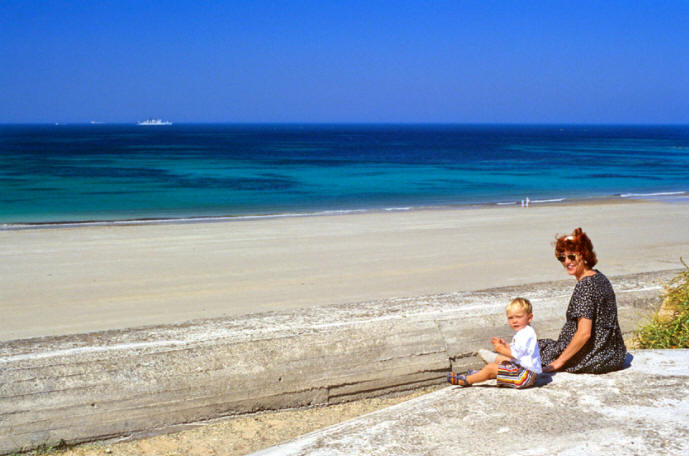 Battling for space on a Jersey beach during the peak of the holiday season - August 1996
There is a restriction of the number of tourists that can stay in Jersey. Even when the hotels are full, as they were during our stay, the island is quite empty. This means miles of empty beaches even during the height of summer.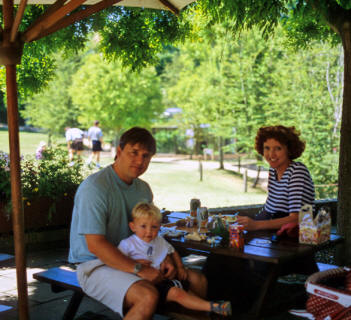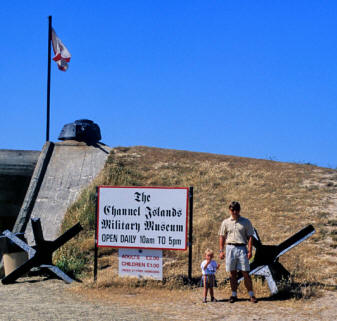 Zoo Channel Islands Military Museum
The Durrell Wildlife Conservation Trust is as a zoo should be, humane and spacious, and has some stunning landscaped gardens and excellent restaurants. Jersey also has some pretty reasonable vineyards, which were set up with the help of the French. Despite being quite northerly the wine wasn't bad. Other attractions include flower gardens, butterfly farms, crafts and pottery centres, ancient Inns and pubs as well as the excellent beaches and scenery. The Channel Islands were the only part of Britain to be occupied by the Germans during World War II. There are many museums and exhibits about this period of history, including the German Underground Hospital .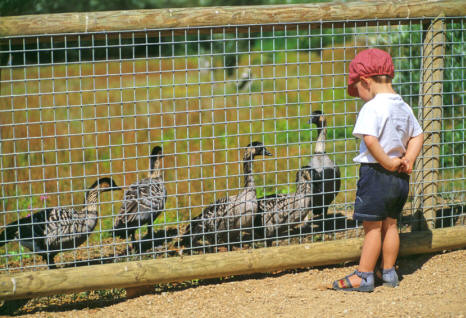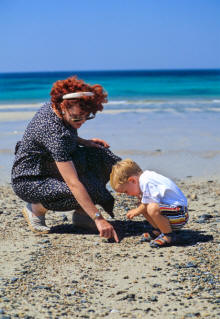 Edward converses with some ducks... I see sea shells
Clair was 8 months pregnant on our arrival in Jersey and as we had to stay a month we didn't know where we would be for the birth. Just in case we alerted the local hospital on Jersey and also a hospital in Doncaster, where we planned to stay in a spare house of Clair's mother's after our tax exile time was over.
With our stay in Jersey I had enough days outside the UK to qualify for tax free status and was able to return to England with Clair just before her due date. We arrived in Doncaster without Clair dramatically going into labour on the Car Ferry or half way up the M1. However another strange UK tax rule stated that I also needed to be out of the UK on the anniversary of my first leaving. As this anniversary date was close to Clair's expected delivery date there was a chance I would have to miss the birth. As it turned out Verity came into the world a day before I had to leave the country again.
The Birth of Verity - August 1996
Our Verity came into the world at 10.30pm on 27th August 1996 during a thunder storm.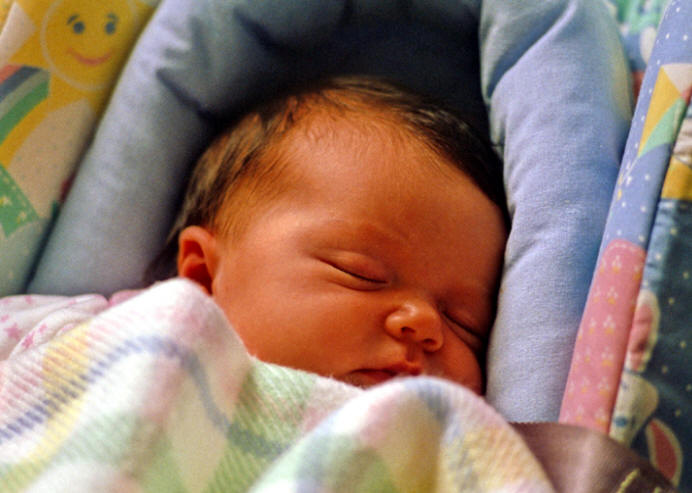 Verity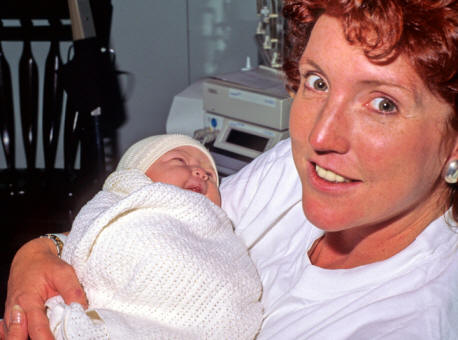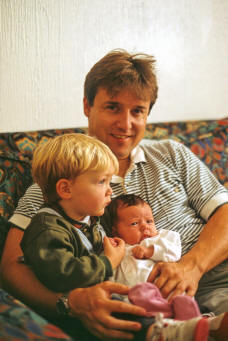 Verity was a little annoyed at being born.... Bigger Family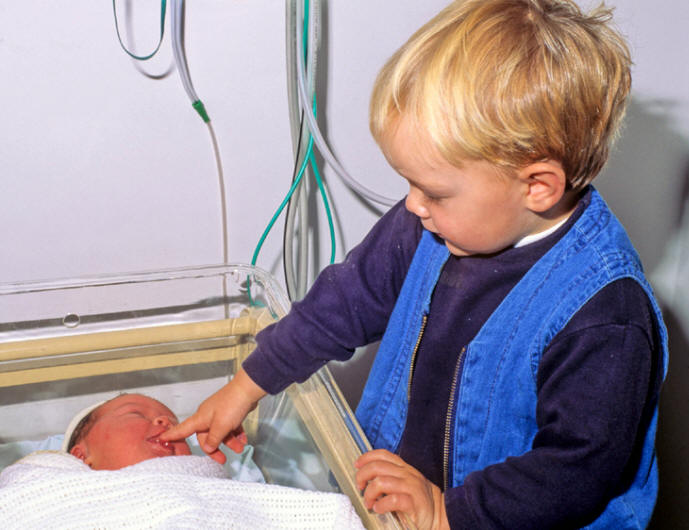 Edward meets his new sister for the first time
Flying Visit to Hollywood, Florida
As I had to leave the UK for a day or two to complete my tax free status I decided to visit a close friend (actually the Best Man at my Wedding) who had moved to Hollywood, Florida. I arrived in time for a bucks fizz breakfast and in the evening sat with my friend in a restaurant in Fort Lauderdale drinking copious toasts to my new daughter, Verity Clair. This led to some questions from the locals who were amazed that I had left my wife in England so soon after the birth. I told them it was an old English tradition that the father always has drinks with his best man after the birth of his first daughter and as my best man was in Florida I had little choice. This seemed a satisfactory explanation to them and they all joined me in another toast.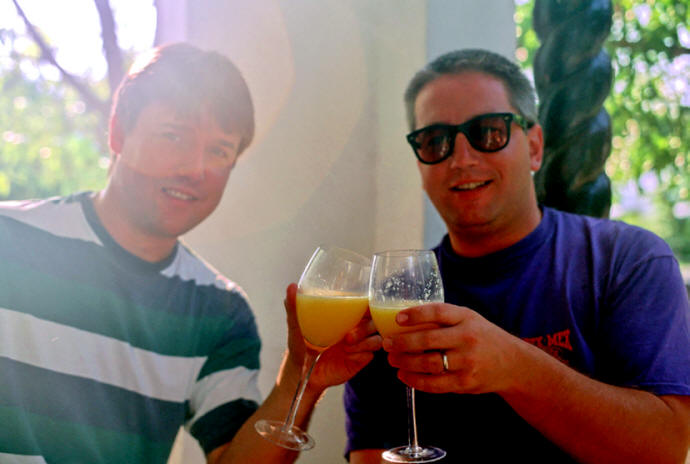 Morning Bucks Fizz in Hollywood to celebrate Verity's Arrival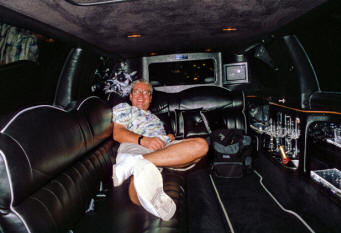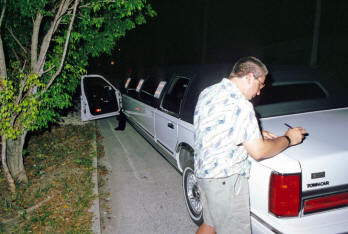 Rather than drink and drive we responsibly decided to hire a stretched limo for the night.
Winter 1996
A busy year and with many changes and challenges. However we have come through it well and spent a few months living in Doncaster whilst job searching and attending interviews. I've joined a large management consulting company and am based in Shaftsbury Avenue in London's West End. Now we just need to buy a house near London.......
Sprotborough Canal Verity's First Winter