Ayla Golf Course, Aqaba.
The Dead Sea, Jordan, March 2018
The Hilton Dead Sea Resort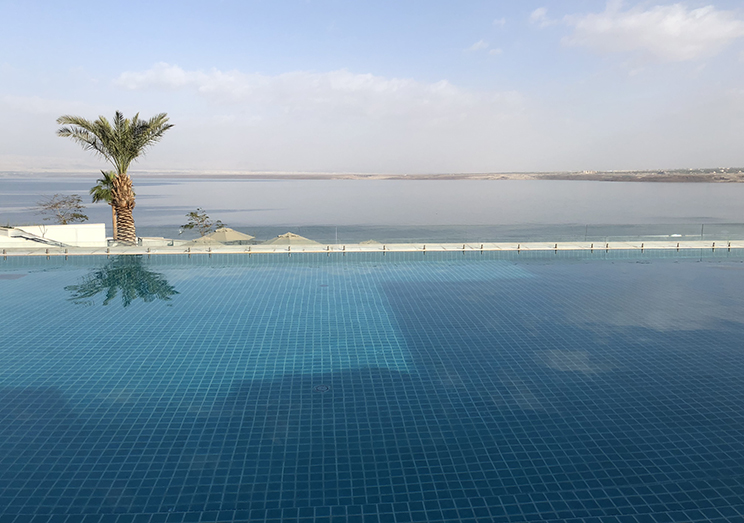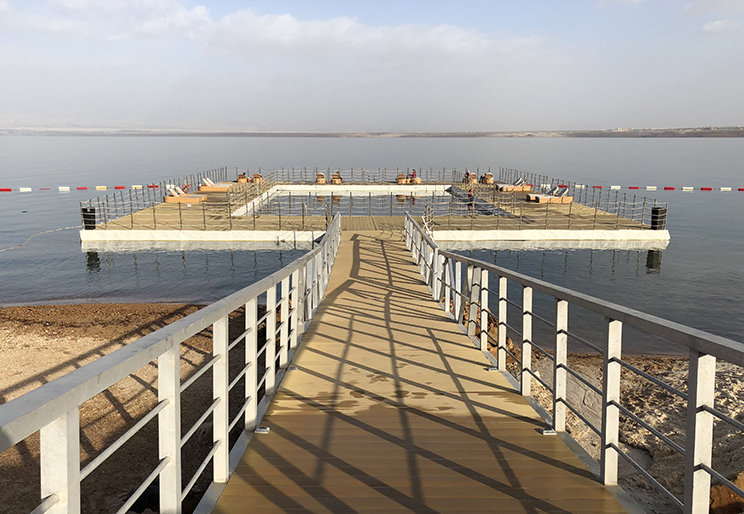 The Hilton Dead Sea Resort, Jordan. Israel in the background.
Jerash, Jordan (revisted), March 2018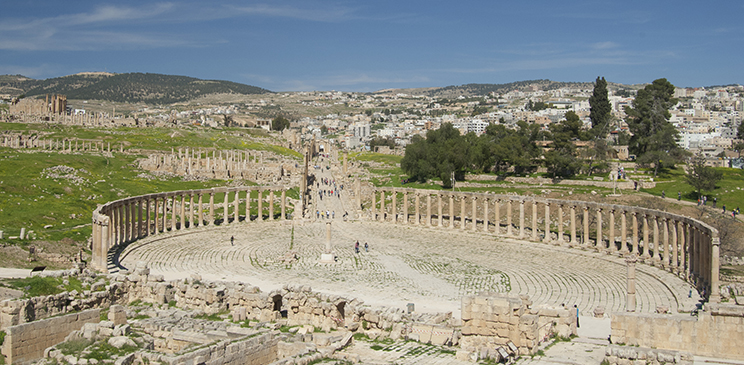 Jerash
We were fortunate enough to revisit Jerash again for the first time since 1996. Less than an hour from Amman and some of the best Roman ruins outside Ephesus.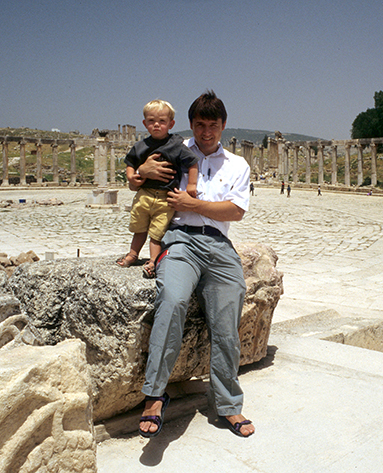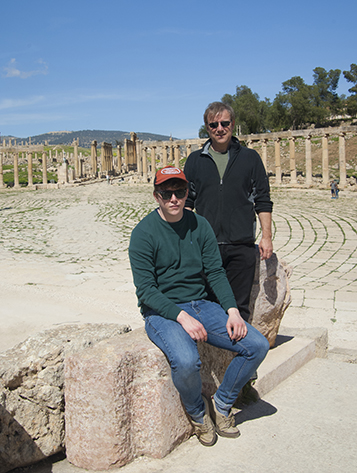 Edward and Me, 1996 Edward and Me, 2018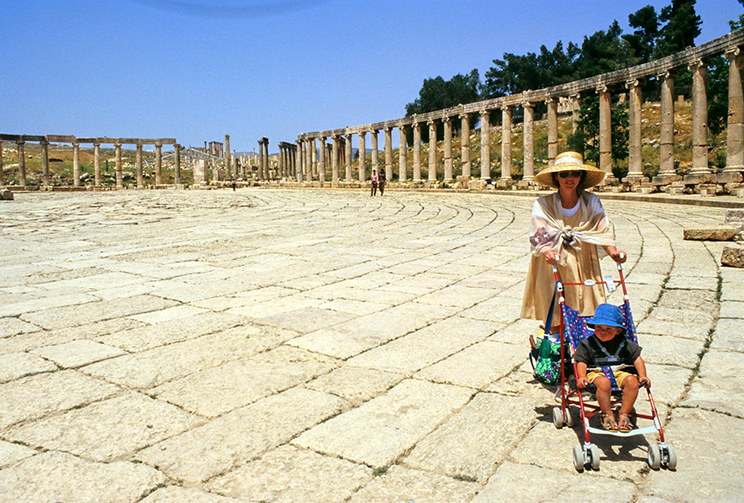 Clair and Edward 1996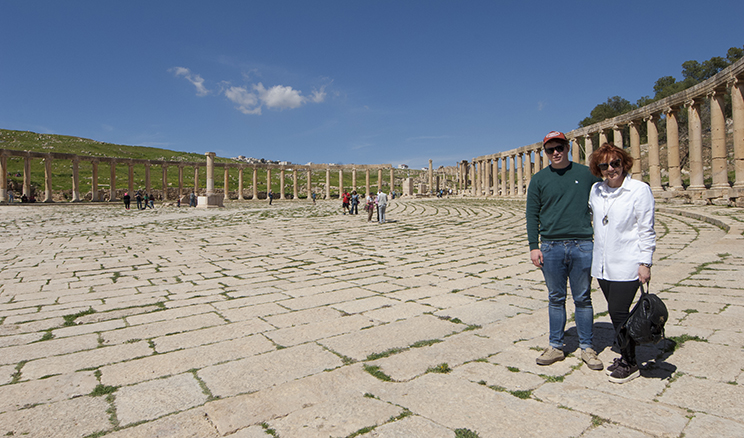 Clair and Edward 2018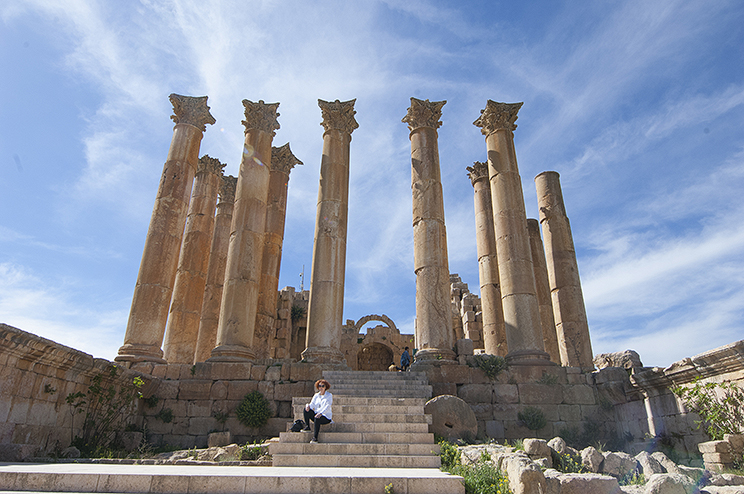 Jerash
Jerash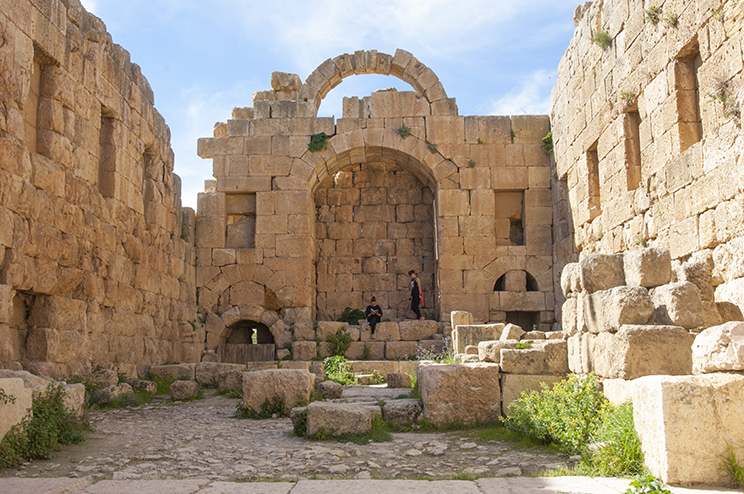 Jerash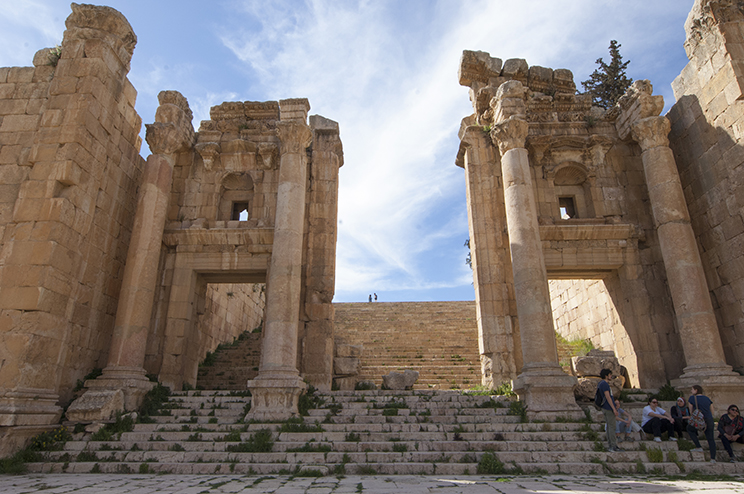 Jerash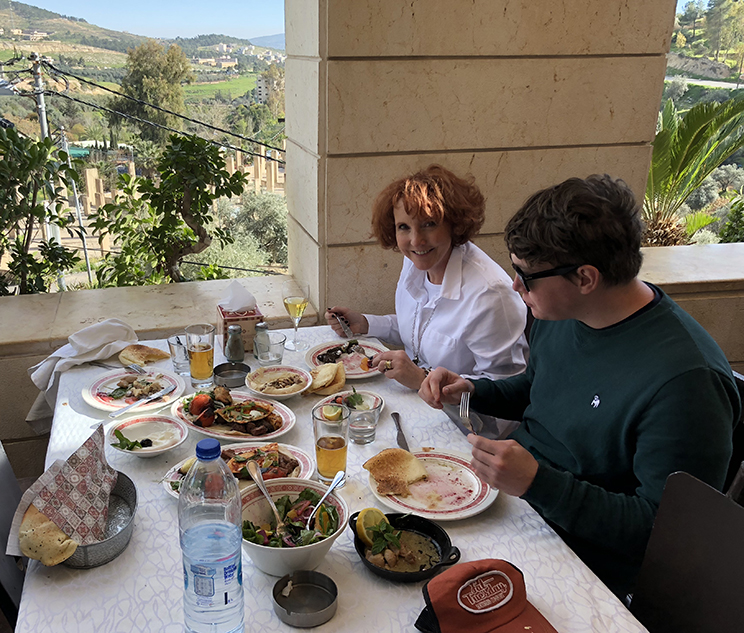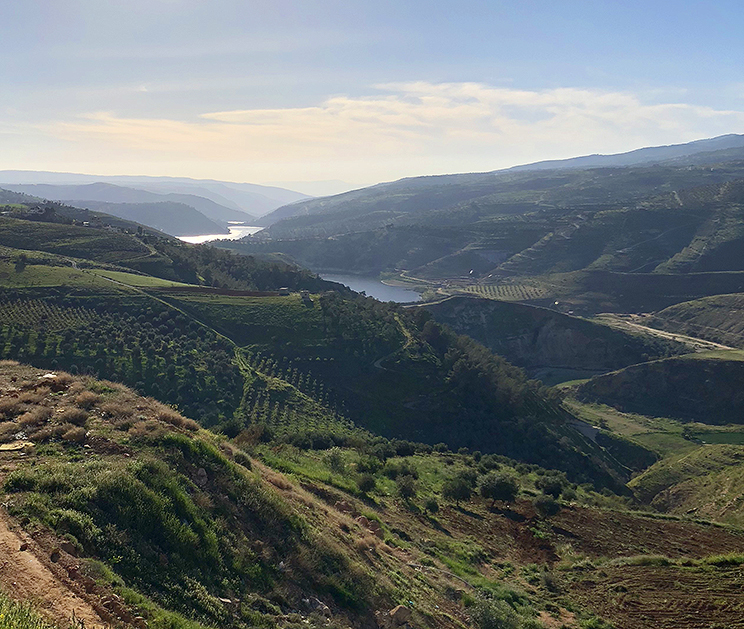 King Talal Dam, Jordan.
Madaba, Jordan, March 2018
"Go up unto....Mount Nebo, in Moab, across from Jericho, and view Canaan, the land I am giving the Israelites as their own possession. There on the mountain that you have climbed you will die." Deuteronomy 32:49-50
A short drive from Madaba is Mount Nebo, where many believe Moses was shown "the promised land" by God, shortly before he died. He is believed to be buried nearby, but his grave has not been found.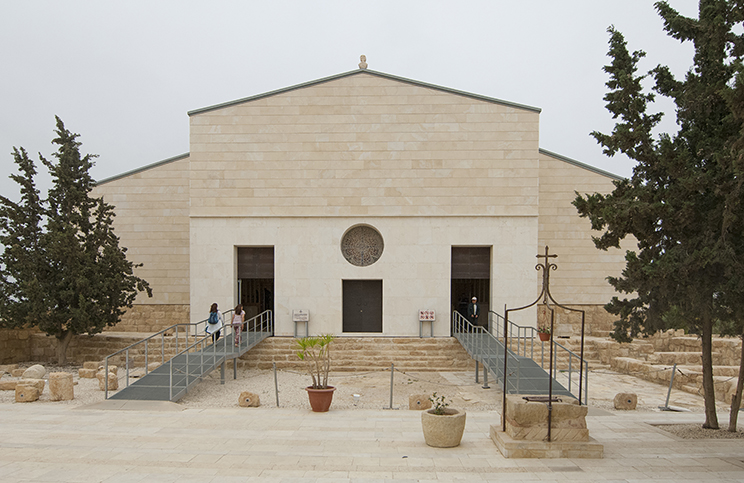 The Moses Memorial Church, Mount Nebo, Madaba.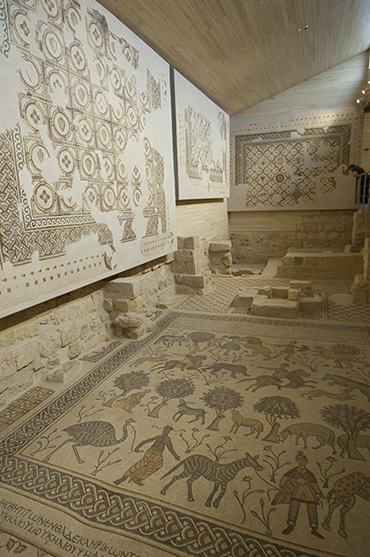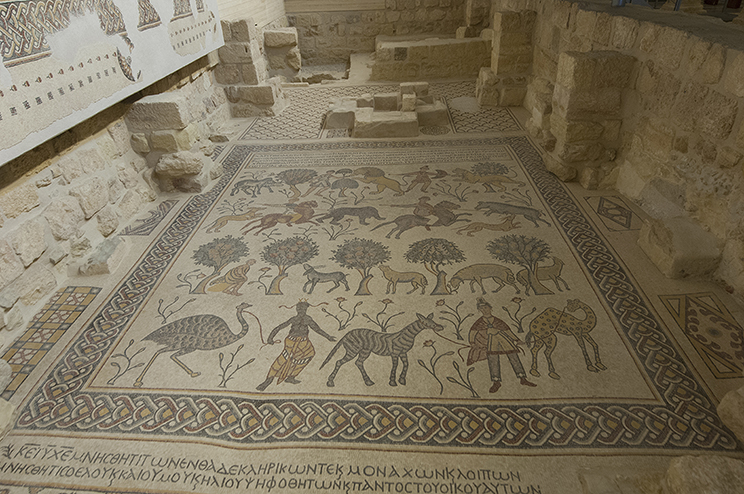 The Moses Memorial Church, Mount Nebo, Madaba, Jordan
The Moses Memorial Church (or basilica) is perched on top of Mount Nebo and houses mosaics from around AD 530. They are in amazing condition for their age. The main mosaic shows a hunting and herding scene depicting Zebu (a type of ox), lions, zebras, tigers, bears, an ostrich on a leash and a camel shaped giraffe.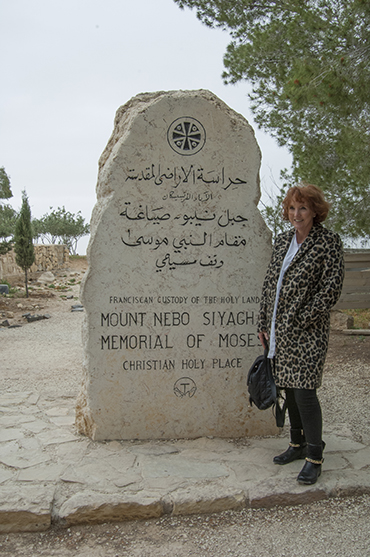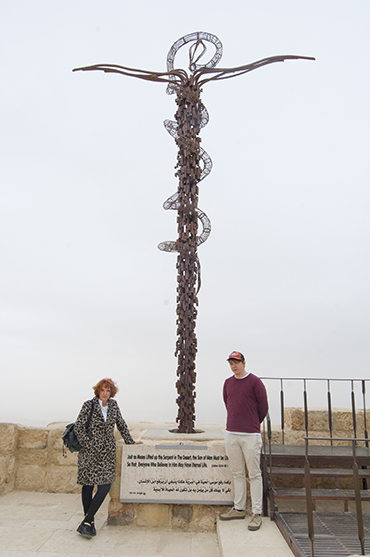 Mount Nebo, Madaba, Jordan
The view from the summit of Mount Nebo provides a panorama of the Holy Land and a more limited view of the River Jordan valley. The West Bank city of Jericho is usually visible from the summit, as is The Dead Sea and Jerusalem on a very clear day. Our view of the promised land was certainly moving and spectacular, but unfortunately too overcast to photograph well.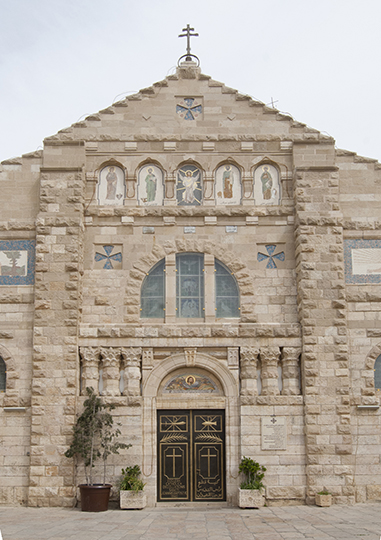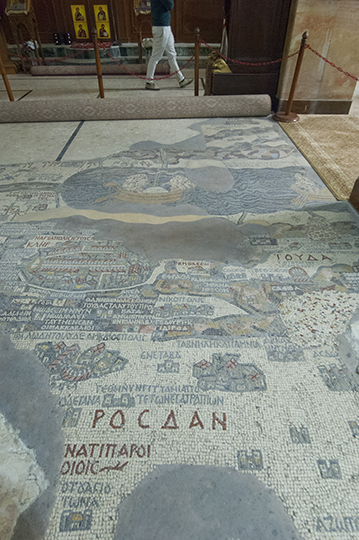 Shrine to John the Baptist, Madaba. AD 560 Mosaic, St. George's Church, Madaba.
The Shrine to John the Baptist in Madaba is built over an ancient vaulted basement that has become the Acropolis Museum and houses a functional 3,000 year old well from the Moabite era. There are also local photographs from the early 20th century and the belfry is accessible up steep stairs and ladders to give a panoramic view of Madaba.
St. George's Church in Madaba is a 19th Century Greek Orthodox Church built over the remnants of an old Byzantine Church. The builders discovered a wonderful mosaic map dating from AD 560 of the major biblical sites of the Middle East, from Egypt to Palestine.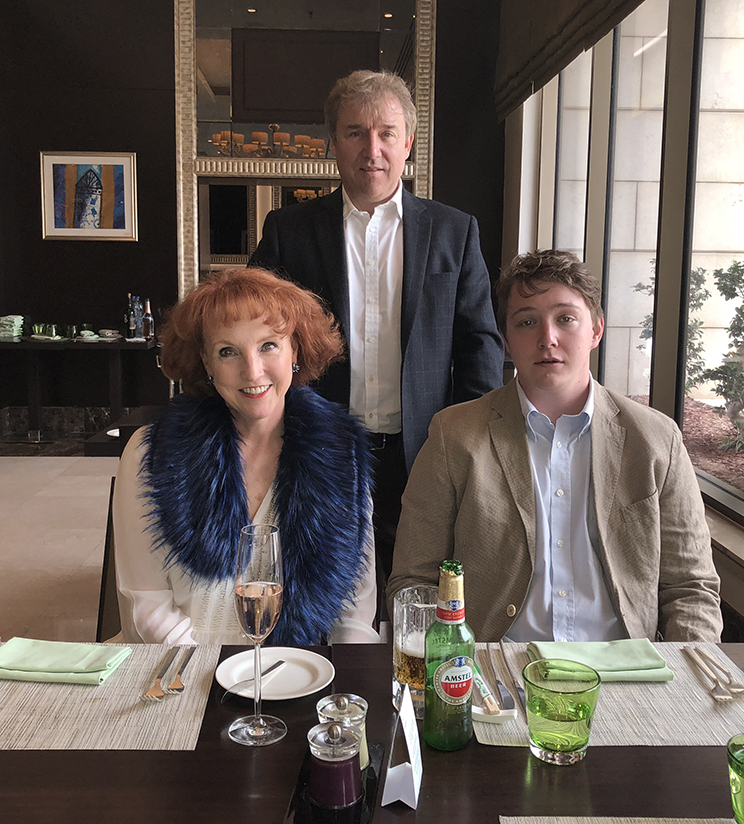 Another Birthday, Sheraton Hotel, Amman.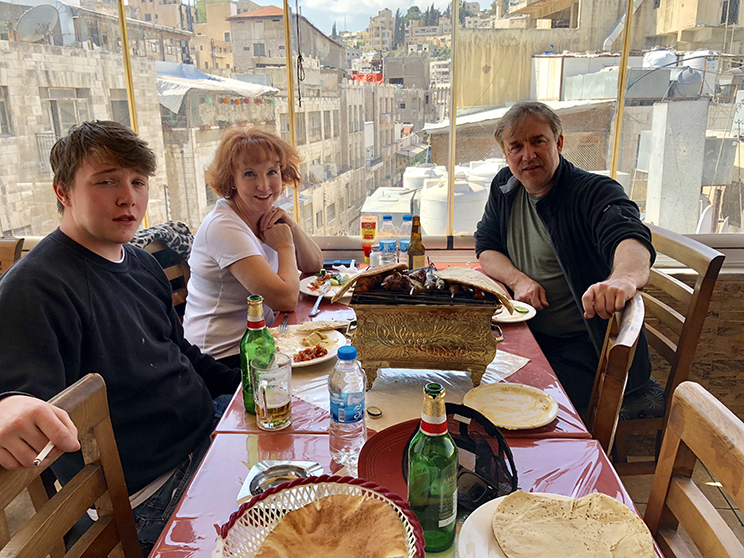 Algiers, May 2018
Algiers
Algiers
My first trip to Algeria. I've managed the country before, but the security was too poor for an actual visit, so I met the managers in Casablanca. Security is much better and made an enjoyable business trip.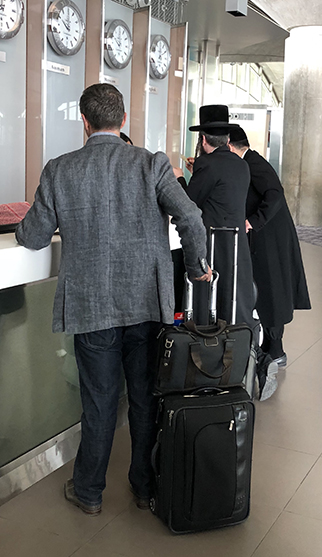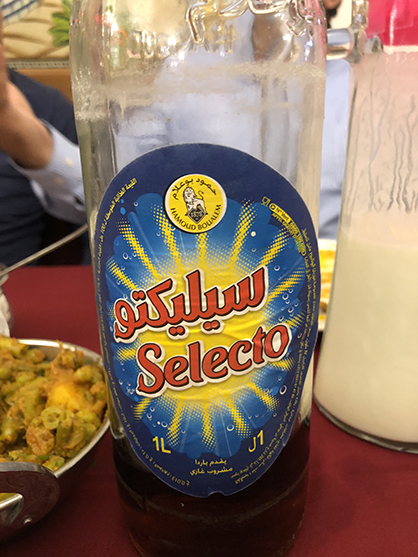 Amman Airport, Business Class Lounge Hamoud
Anybody notice anything unusual about the Royal Jordanian Business Class Lounge? A Jordanian stood next to me said it was "reassuring. We have to talk".
The Algerians are very proud of their soft drink "Hamoud". It was very good, but turned out to be identical to an old English drink called Dandelion and Burdock. It's interesting that we share this in common.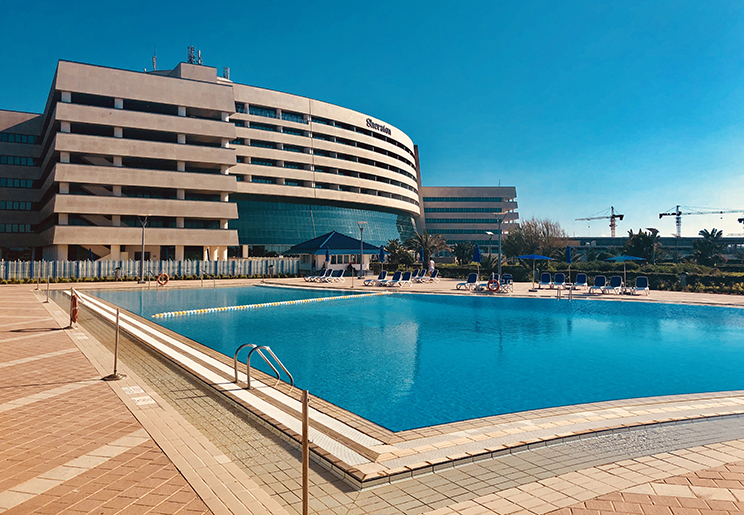 Sheraton Hotel, Algiers
The Sheraton Club de Pins Resort was very pleasant. The sun shone and the Mediterranean gleamed but it was apparently too cold for anybody to use the pool.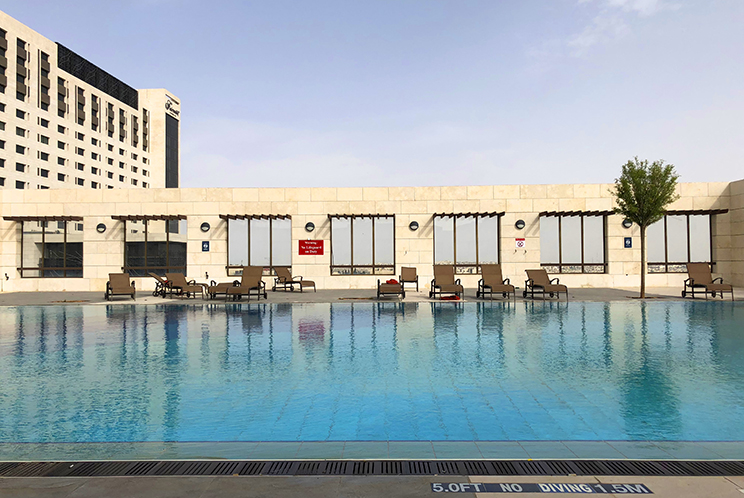 Sheraton Hotel, Amman
On retuning to Amman the pool at the Sheraton was equally cold and empty. Perfect water temperature for me but too chilly for anybody else it seems. We joined the health club and spa there, a short walk from our apartment.
Aqaba, May 2018
Ayla Golf Course, Aqaba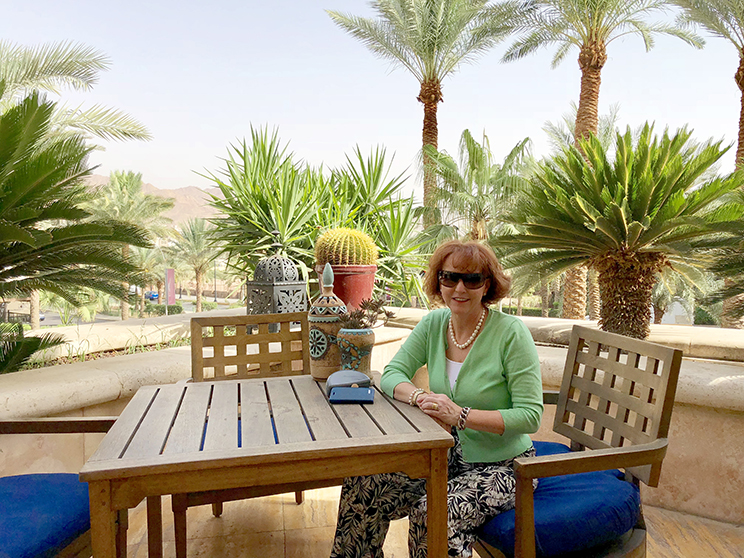 Movenpick Hotel, Aqaba
A short break in Aqaba to celebrate Clair's birthday. It gave her the chance to assess the only championship golf course it Jordan. It was as stunning as it was empty.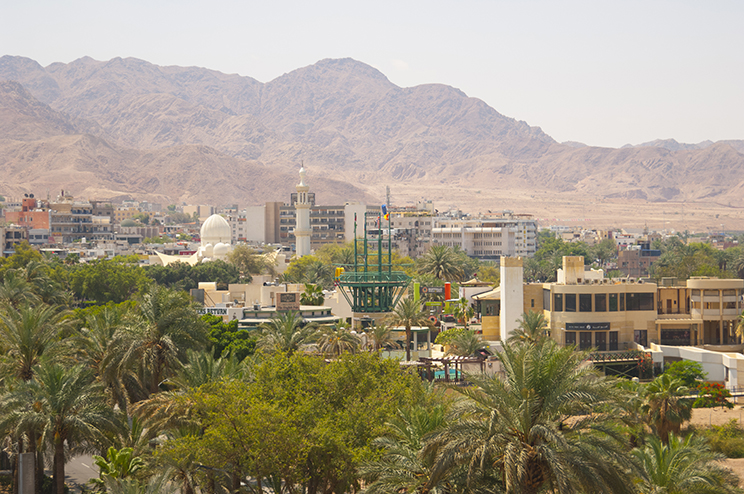 Aqaba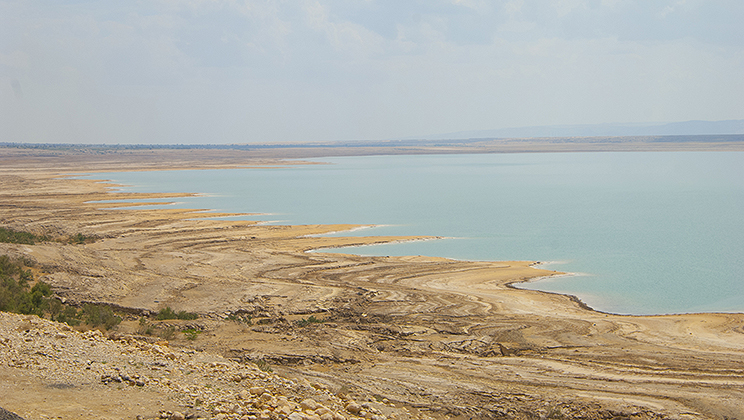 The (shrinking) Dead Sea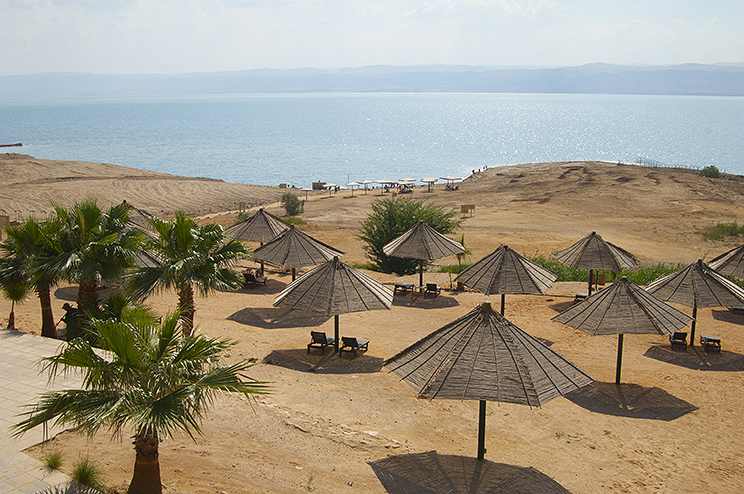 The Dead Sea Spa Hotel
The drive back to Amman along the Dead Sea shore line allowed us to stop for lunch at the Dead Sea Spa Hotel. For JD 20.000 they let you use their pool and beach facilities for the day.
Umm Qais, June 2018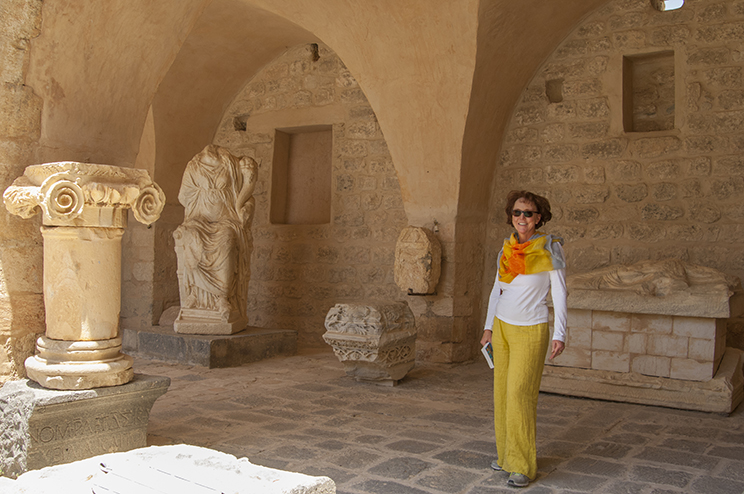 Umm Qais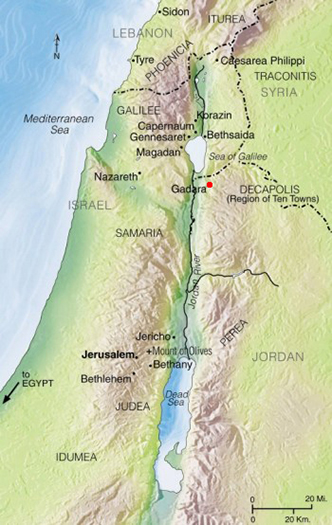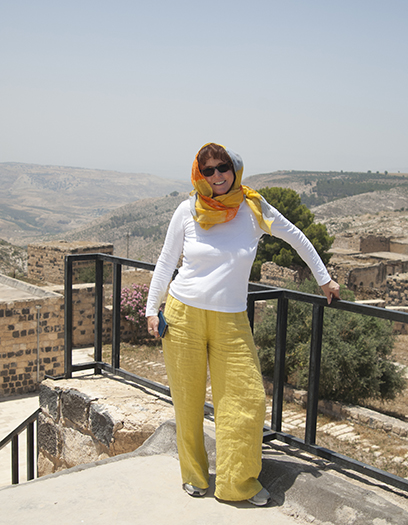 Umm Qais / Gadara
Umm Qais is located in north west Jordan, near the borders of Israel, Palestine and Syria. It contains the ruins of the Decapolis Roman city of Gadara. The ruins contain two amphitheatres (one of which sat 3,000 people), baths, fountains and a basilica. It is not nearly as impressive as Jerash but is compensated by fabulous views and is bordered by an abandoned Ottoman era village. It may also have been where the Bible claims that Jesus performed one of his miracles, transferring demons from two men into a herd of pigs.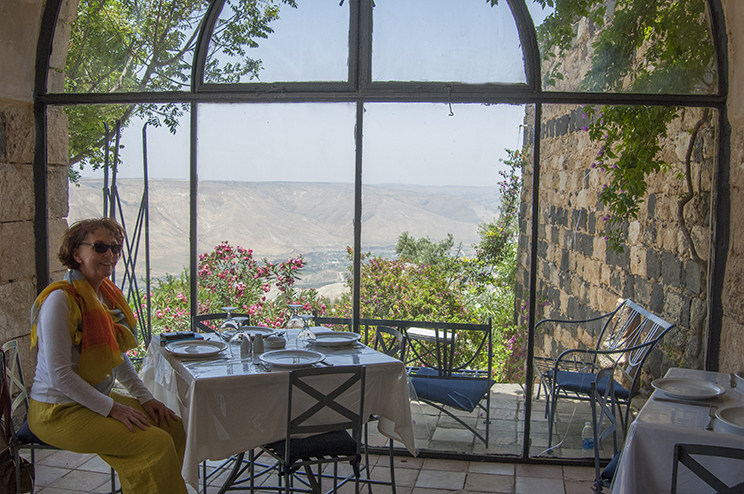 Umm Qais Resthouse
The Umm Qais Resthouse is found amongst the Roman ruins, in a converted Ottoman house and has fabulous views overlooking: The Sea of Galilee; Golan Heights; Jordan Valley; The Peaks of Lebanon; Israel; Palestine and Syria. It has an excellent reputation for serving high quality, local seasonal food, local wines and other alcoholic and soft drinks. We visited on a hot day during Ramadan and it was fully open and empty.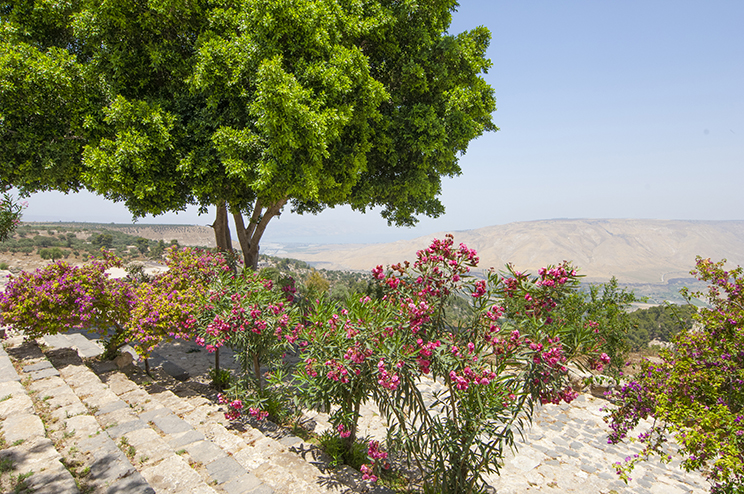 View from Umm Qais Resthouse - The Sea of Galilee can be seen under the tree in the middle of the image.