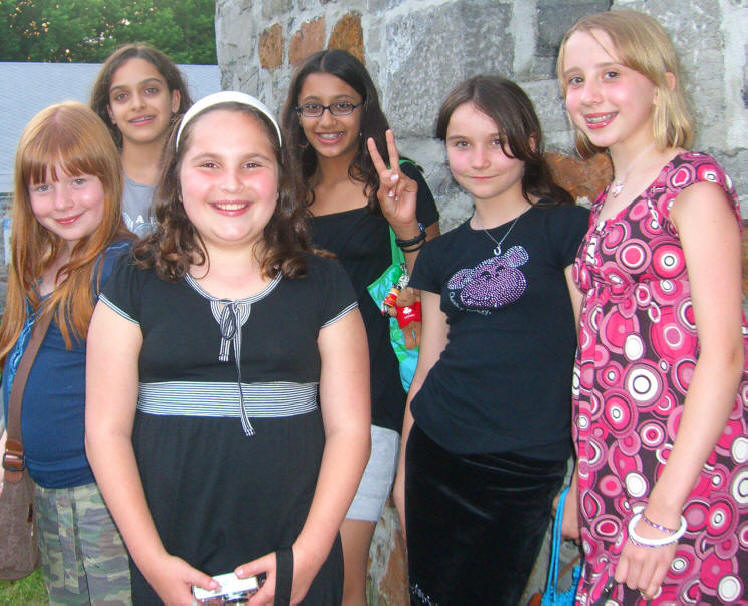 Friends on Canada Trip
Summer 2007
In June our school did a trip to French Canada. We went for five days and for the first few days we went to Montréal which is in the Province Quebec. We went to see most of the main sites including their Olympic stadium which is shaped like a bicycle helmet.
And on third day we went shopping in their underground mall which had over 40,000 shops! And around 52 malls! We went shopping their for two hours then we took a coach up to Quebec city which is the capital of Quebec. We stayed there for 3 days then we took a coach up to Montreal airport and went home! My favourite bit of the trip was the shopping which was really cool.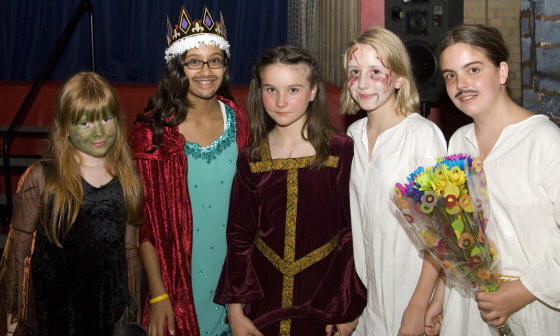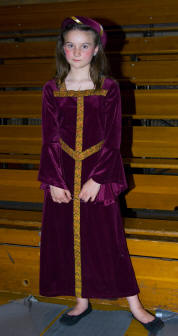 Lady MacBeth
This year my school put on a play called a "A Night With Will Shakespeare" There were scenes from all of his different plays.
The last two scenes were MacBeth. The first Macbeth scene was the opening when Macbeth meets the three witches and gets his future told and then the second scene is the banquet scene when Macbeth has just became king and had his best friend Banquo killed and he goes crazy and Me (lady MacBeth) kept making excuses for his behaviour.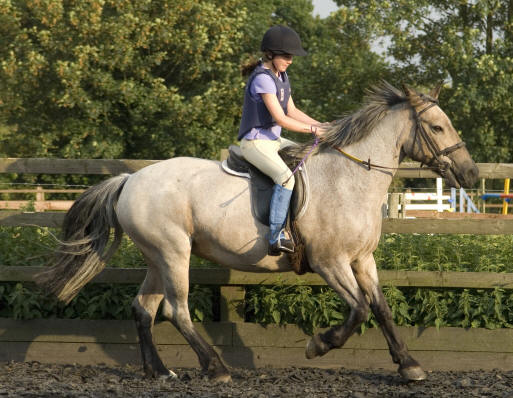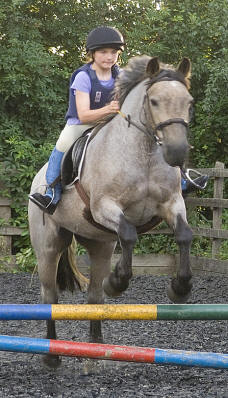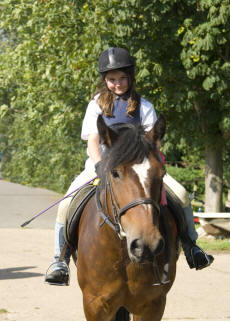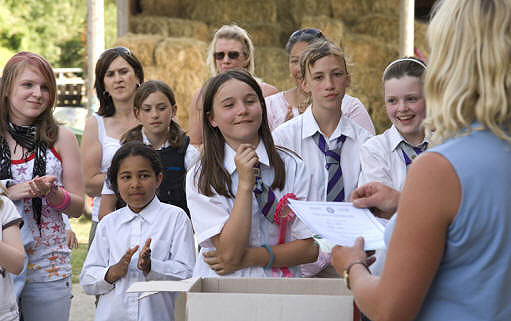 Pony Camp
In June we moved back to England. I went to a Pony Camp for five days which was really good. We spent a whole week around horses mucking out and jumping and at the end we did a musical ride to show the parents. But my favourite part of it was the Cross Country. We loaded all the horses up on the lorry and drove up to a big field full with show jumps logs and tires for the horses and us to jump over. Also while I was there I passed my D+ which is a test which level you are at riding.
Starting Boarding School - September 2007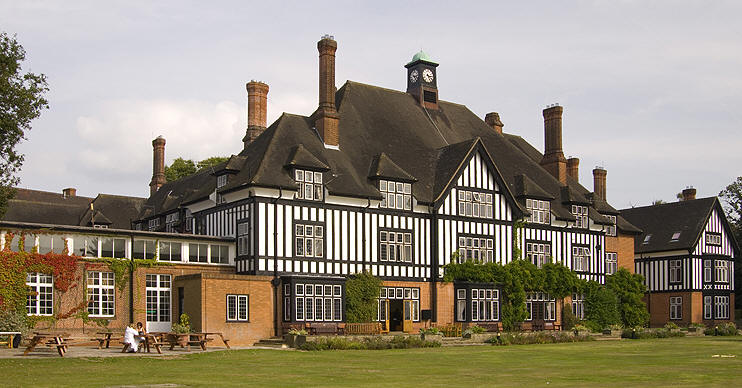 My boarding house at Queenswood School - my dorm window is above the black door and has a lovely view over the school grounds
I'm into my third week at boarding school and nearly completed a month. It is quite surprising as it is not as strict as I thought it would be and the staff are really friendly. My favourite subject is science at the moment and then History. I am doing netball, hockey, swimming and horse riding as my main sports. I'm also learning piano but I may swap to guitar. I am really enjoying boarding because I am always with my friends and I get a lot more freedom than at home. The boarding system is that Year 7 & 8 share a house called Trew. Then in year 9 we move to Centre then when we start lower sixth we go into a place called Eves, which we aren't allowed to in yet! There are 5 girls in my dorm and 5 in the dorms either side of us, but even though it is an equal amount of people we still have the bigger dorm. We have a lovely view over the school grounds from our dorm window. There are deer, rabbits, foxes and badgers in the school grounds. Lucky us!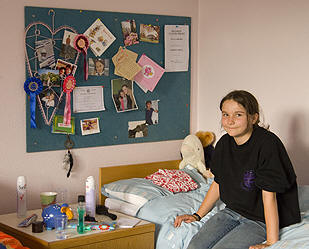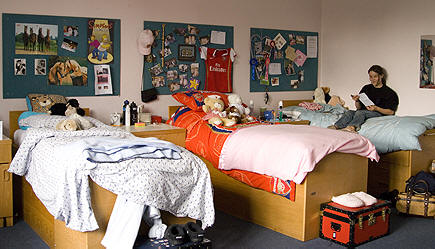 My Dormitory
I've got the biggest boarding house which is both good and bad good because we get more room and bad because it gets a bit lonely especially when you are there by yourself. On our first night there the fire alarm went off because the lower 6th burnt their toast! Then after a couple more nights we had the actual drill then we have another one with the whole school then we have one during the day with all the day girls. So quite a lot of the first week was standing on Trew lawn in our pyjamas!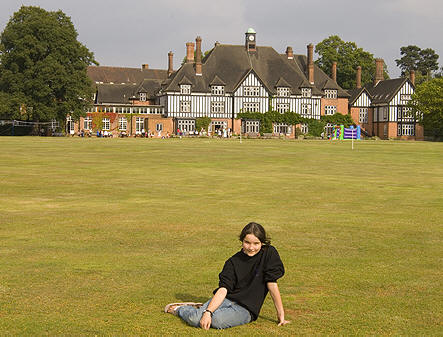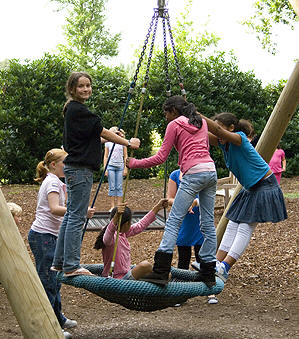 School Grounds Adventure Playground
On our first weekend we had to stay in but all of our parents came for a BBQ and so we didn't get too home sick but then when we got into our first proper week it went so slow that lots of girls got homesick - not me though! There are only 15 year 7 boarders but lots of day girls! It's really hard not to get lost going to lessons because it's like a mini village. All the buildings are really far apart it took me quite along time to find my way around but I finally managed it and know my way around quite well apart from the odd things like the PE because their are so many places to have the lesson!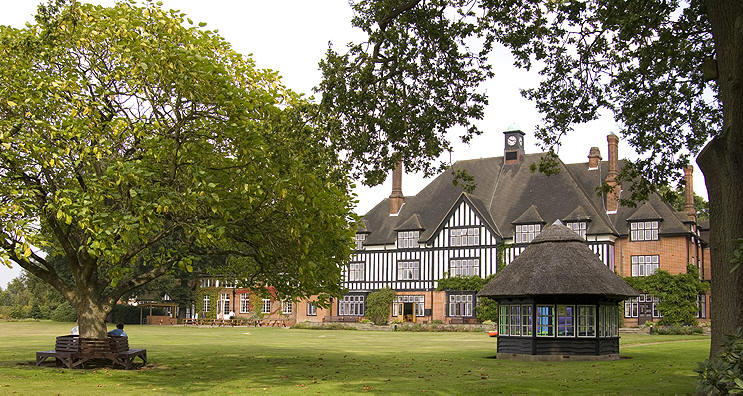 My New Back Garden!
December 2007 - Carol Service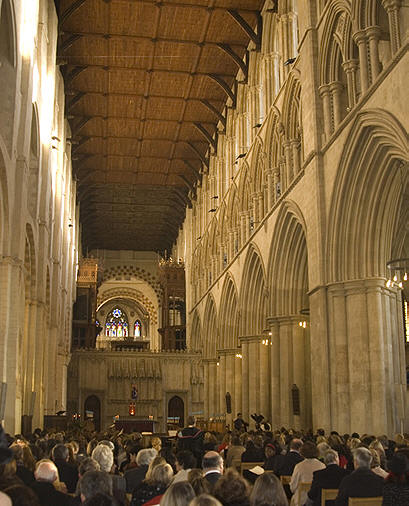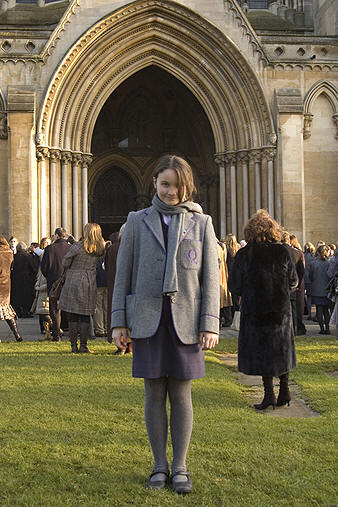 School Christmas Carol Service at a local Abbey