Holiday in Sri Lanka: January 1999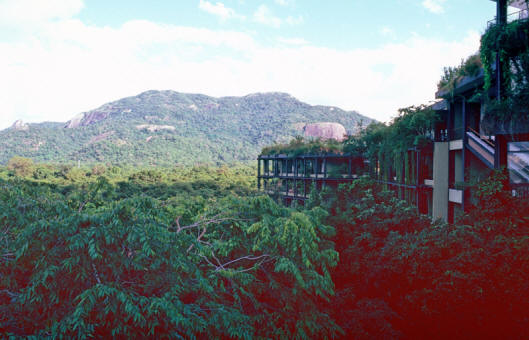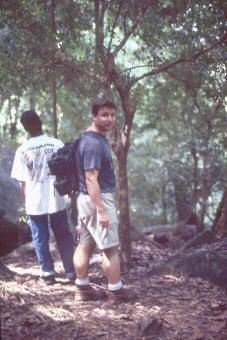 Kandalama Hotel Jungle Trek
The Kandalama Hotel is probably one of the most memorable and spectacular Hotels we have stayed in. Literally built in the middle of the jungle, and by a great lake, it gave us fabulous access to some very remote countryside. As you can see from the photo the jungle is allowed to grow over the hotel to make it "ecologically friendly". Dinner was eaten in the beautifully manicured gardens under flaming torches and afterwards we would sit on our balcony listening to the almost deafening sound of the jungle. I'll never forget Edward's delight at catching a firefly in his bedroom, or floating in the swimming pool and watching the monkeys as they climbed over the roof of the hotel.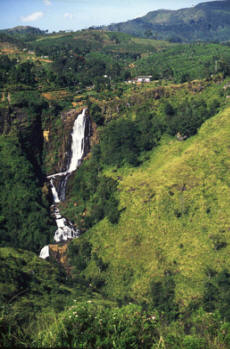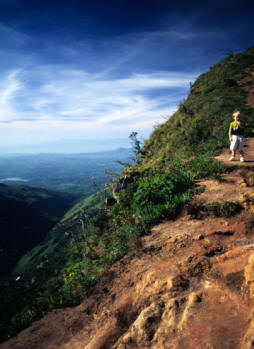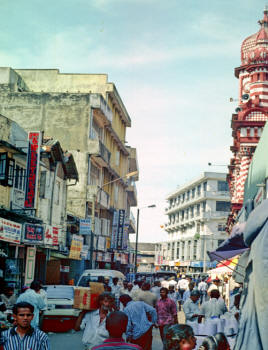 Country Sri Lanka has an "End of the World" too. Town
From the hotel we were able to explore the surrounding jungle on elephant back. As there were all sorts of slithery sharp fanged and venomous creatures hiding on the jungle floor it seemed the safest way to get about. We did decide to risk a "nature trail" walk around the hotel with a trained guide. As Edward and Verity are still only 2 and 4 this seemed responsible. However our suspicions were aroused about an hour into the walk when our guide produced a machete and started clearing creepers from our path. It seemed we had inadvertently joined the "jungle trek" queue at the hotel. It was too late to go back as we were with a party of other people. As it turned out the children had a wonderful time seeing some tropical birds, butterflies, lizards and monkeys - we even saw a poisonous snake (much to the delight and excitement of Edward and our guide). Verity had to be carried for two hours of the return walk and was fast asleep by the time we got back to the hotel.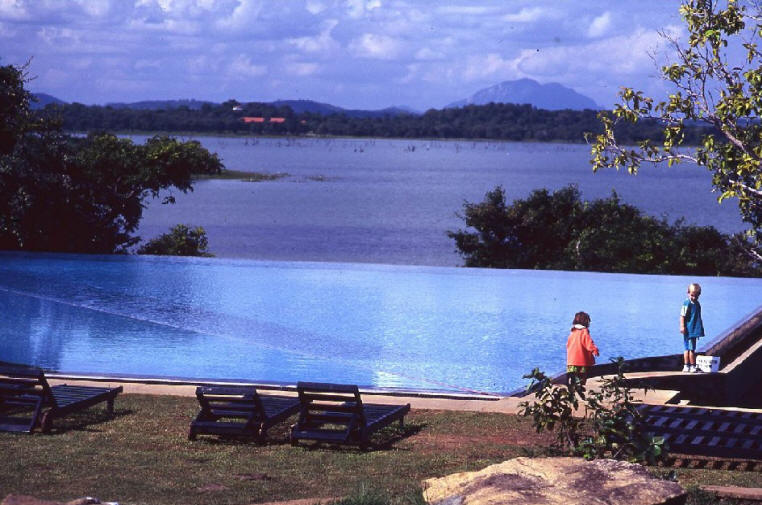 Relaxing by pool at the Kandalama Hotel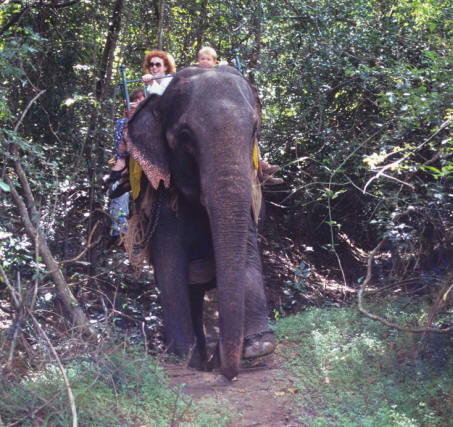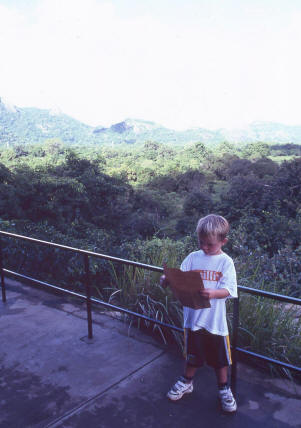 Safest way to travel Little Explorer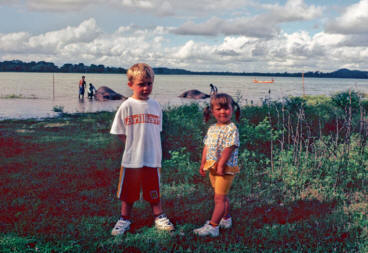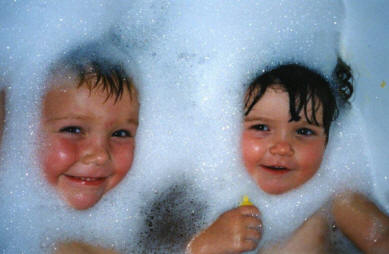 Elephants having their daily bath........ ......children having their daily bath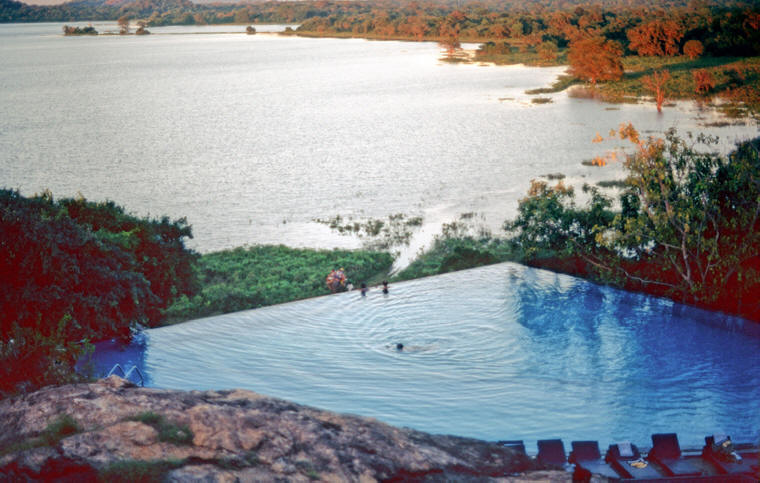 G&T's by the pool after a hard day in the jungle.........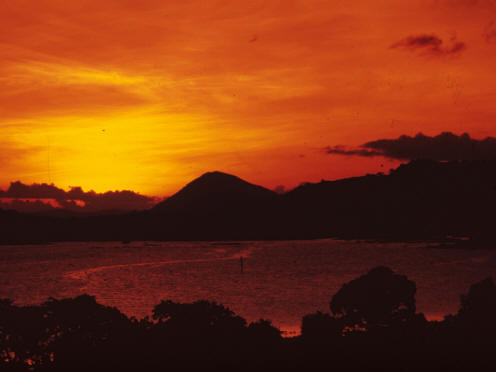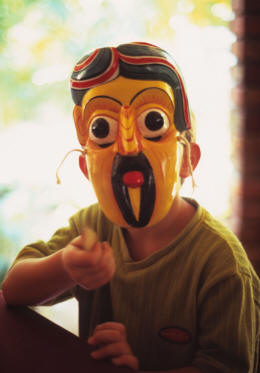 ...and enjoy a Sri Lankan Sunset Edward's Sri Lankan Mask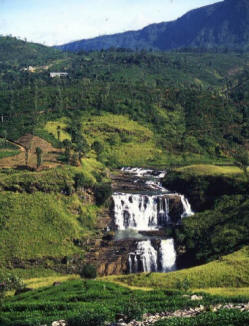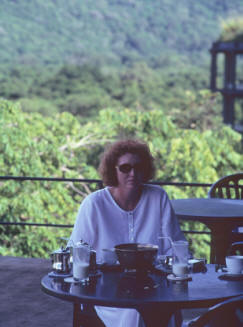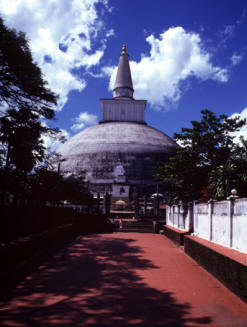 Stunning Views Afternoon Tea Temples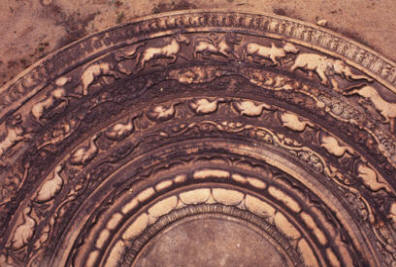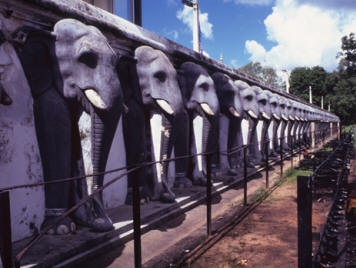 Sandstone Carving Elephant Temples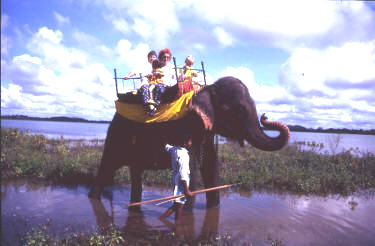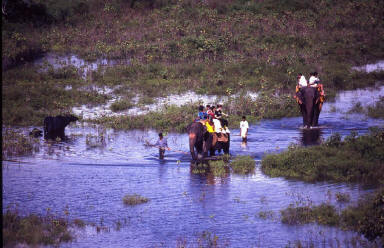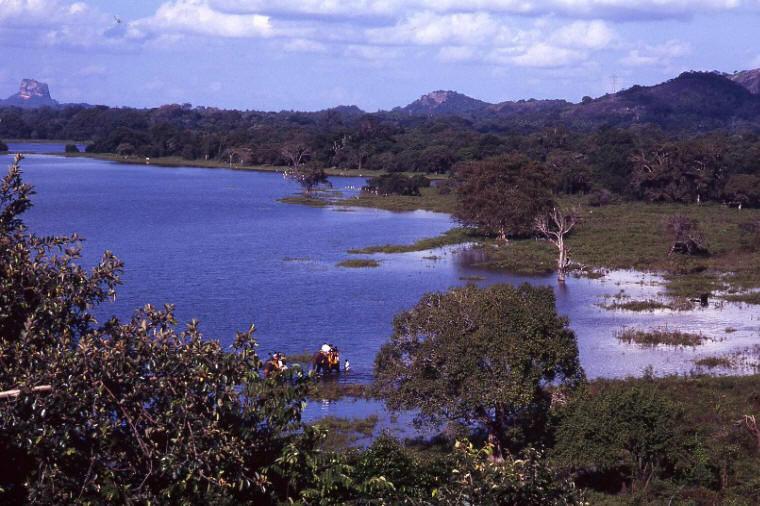 Elephant Trek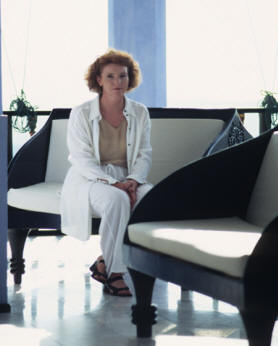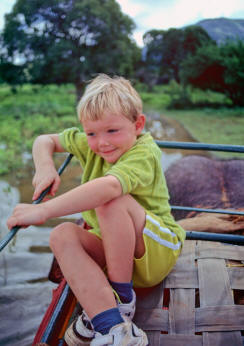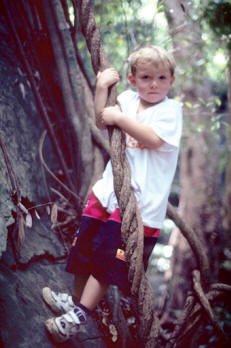 Gorgeous...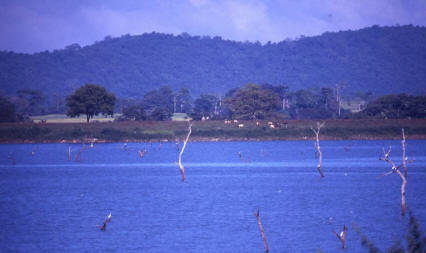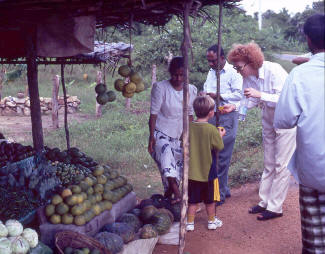 Flooded Forest Buying lunch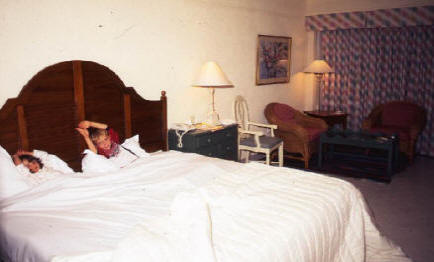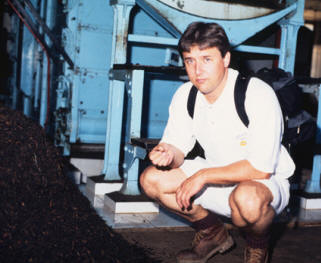 No Sleep Tea Factory
Then it was off to Kandy visiting The Rock Fortress of Sigiriya Polonnaruwa (12th Century Sri Lanka) and Anuradhapura (5th Century capital of Sri Lanka) en route.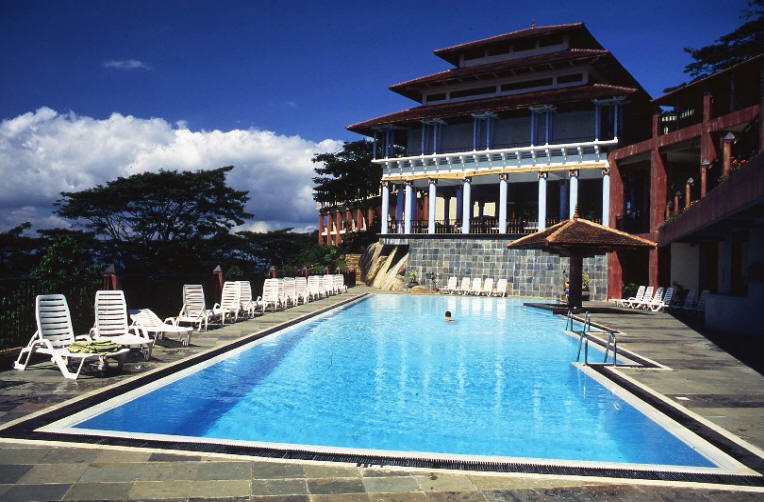 Hotel at Kandy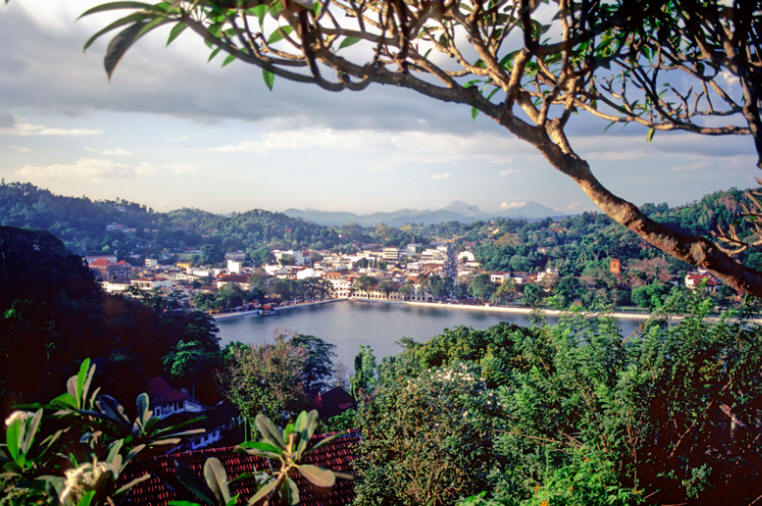 View of Kandy
Kandy was surprisingly pretty and gave us the chance to visit the local markets, spice gardens and batik factories as well as the beautiful botanical gardens which were built by the British during their stay. Cultural events included firewalkers (Edward was warned not to try this at home) and the excellent (although ferociously hot) Sri Lankan curries.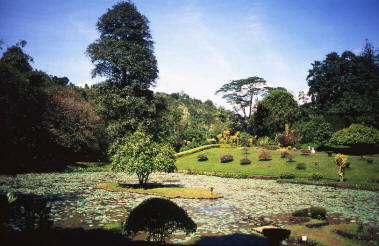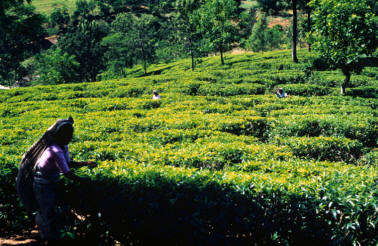 Botanical Gardens at Kandy Tea Plantation near Nuwara Eliya
To cool down after the tropical heat we moved to Nuwara Eliya in the tea plantation laden hills. Blessed with a cooler climate, breathtaking views of valleys, meadows, mountains and greenery; it's hard to imagine that Nuwara Eliya is only 180 Km from the hot and humid Colombo. The tea is so fresh it tastes a little of mown grass.
Nuwara Eliya (City of Lights), also known as 'Little' England', was the favourite hill station of the British who tried to turn Nuwara Eliya into a typical English Village. I think the closeness to their tea plantations and the cooler climate was important in their decision to try to create this home from home. The old brick Post office; country house like hill club, with it's hunting pictures, mounted hunting trophies and fish, and it's strict formal dinner attire; St. Andrews Hotel (by the the 18 hole golf course); the traditional English race course and general architecture all remind you of home.
Finally what better way to recuperate before returning to Riyadh than a stay at a luxury Taj hotel on the Indian Ocean?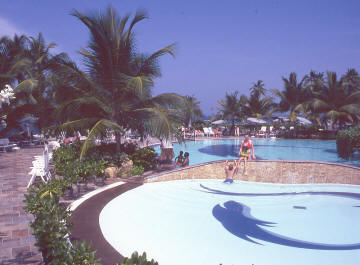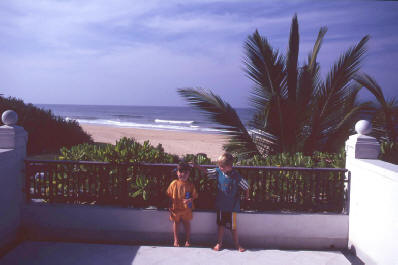 The Taj Exotica at Bentota
Back to Riyadh, Saudi Arabia:
Edward outside a mud building in Dirriyah, the old Saudi Capital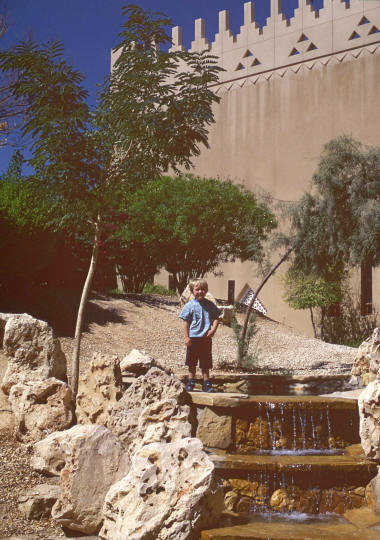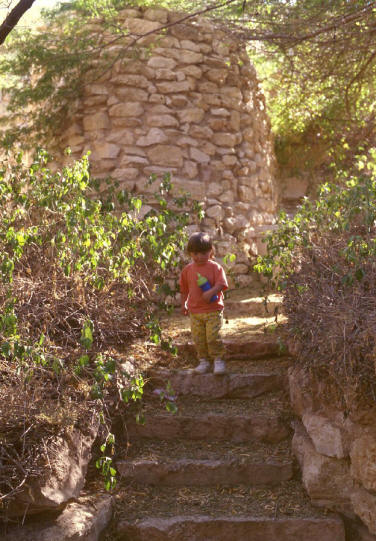 A Walk around the DQ (Diplomatic Quarter), Riyadh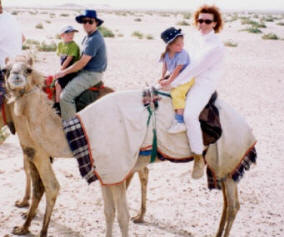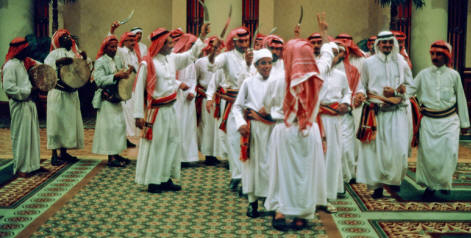 Camel Ride Arabic Dancing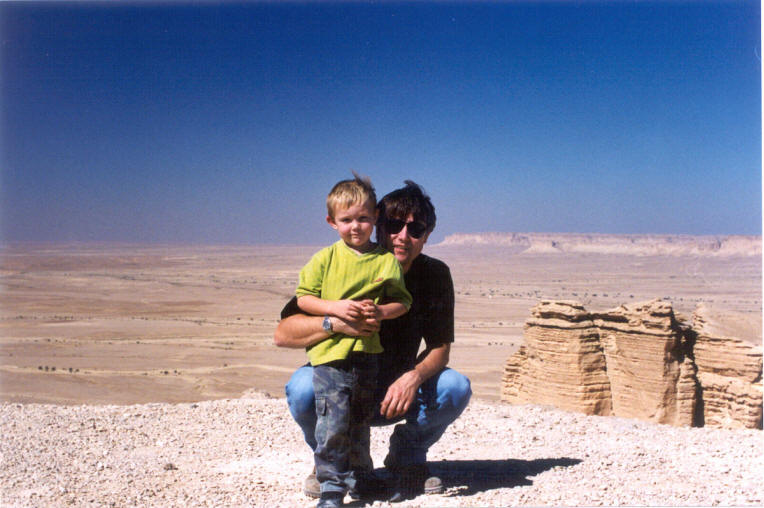 "End of the World" near Riyadh
July - and I had a few enjoyable days in Beirut to shoot a couple of TV commercials. The clever account mangers at Saachi and Saachi had organised post-production in London, so as the client I was their guest on an all expenses paid trip in early August. This was hard work but gave me the chance to have a few drinks with old friends in familiar haunts. I flew back to Riyadh, arriving early in the morning, unpacked, repacked and caught a plane with the family to Turkey that afternoon for a much anticipated sailing holiday.
Sailing in Turkey - Eclipses and Earthquakes - August 1999
Not being able to do any real yachting, as the children are too young, we opted for a Sunsail shore based sailing holiday with kid's club capacity. Yedi Tepi near Bodrum in Turkey seemed the most convenient location from Saudi Arabia.
The children had a great time trying various different water sports, from canoeing to speed boats, catamarans to donuts.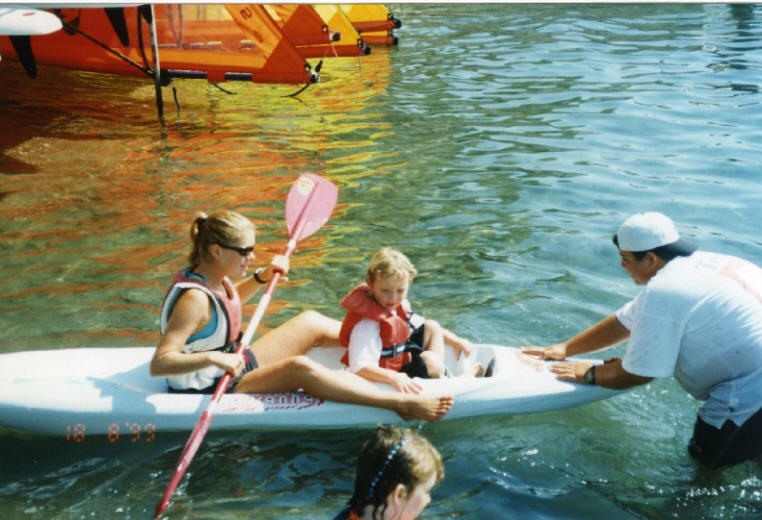 Edward learns to canoe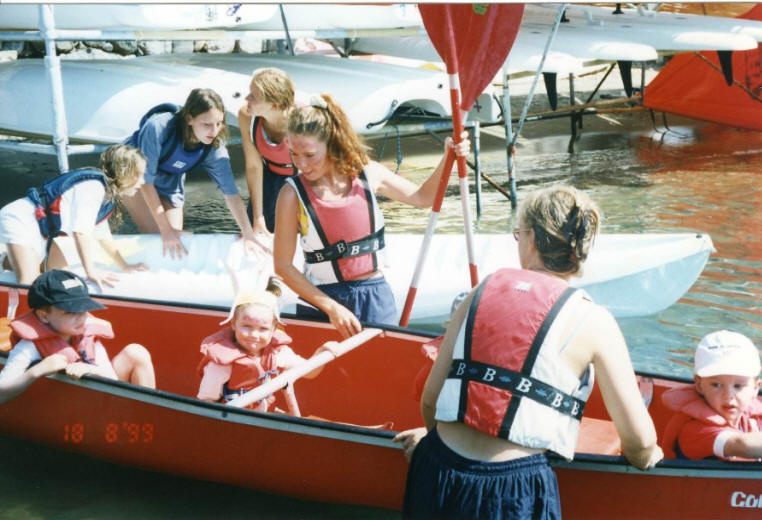 Verity looks cute
Clair and I kept pretty much to day yachts and got friendly with a great crowd of similar minded Brits.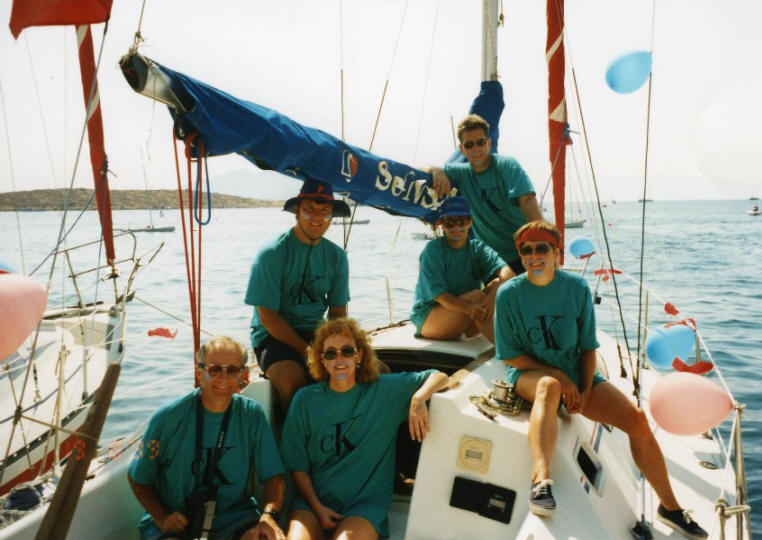 The team in colours before the race....
The week was finished with a day long yacht race around a nearby island. We teamed up with our friends and decked in special team colours actually managed to come first - spectacularly passing the finishing line keeled right over in order to save a final tack: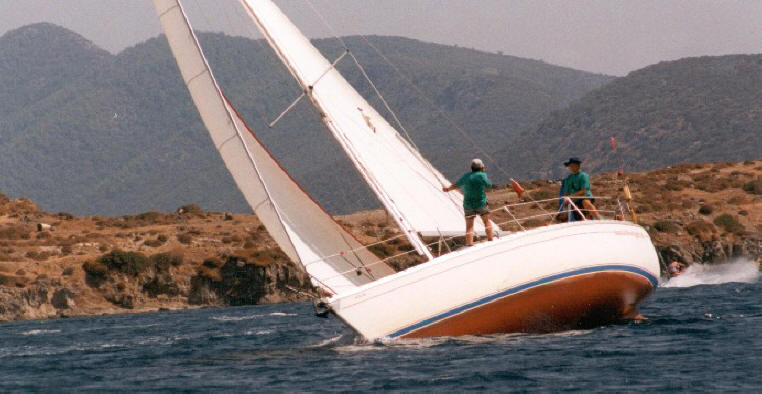 Heeled over the finish line in first position....August 1999
The holiday is also memorable for a total eclipse of the sun, which we experienced on a nearby beach and in a restaurant at lunchtime. During lunch the rush matted roof diffracted millions of tiny elipses all over our table cloth and throughout the restaurant. We were also in Turkey on 17th August when the catastrophic earthquake hit Western Turkey - it made 6.7 on the Richter Scale with the epicentre in Izmit. We were near Bodrum which was too far away to feel the tremors, and only knew of the event from the television the next morning. This was a major earthquake and tragically killed over 10,000 people. We had to fly through Istanbul on 21st August to get back to Riyadh. There were a few delays but nothing major considering the extent of the damage. We were surprised that the airport was open at all.
October 1999 - Team Building in Lebanon
I had a team meeting at the Al Bustan Hotel in Beirut. This is a good hotel on a spectacular hillside location overlooking Beirut. At the current time it is the best hotel in Beirut. I was much impressed with the amount of development seen in Beirut since my 1995 visit. The city now genuinely has a feeling of rejuvenation and renewal with gleaming new shopping malls, exciting new nightclubs and lovely seaside restaurants. On this trip we got the opportunity to leave Beirut and see some of the greenery that Lebanon offers. We went to a National Park to do some abseiling, stress management and other team building activities. Lebanon is certainly now a candidate for a family holiday - particularly as this is a country with clean Mediterranean beaches, pleasant greenery and skiing for much of the year. The food is superb and it even boasts some world class wine - my favourite being Chateau Kefraya from the Bekaa valley (also apparently the source of the equally famous Red Lebanese Hashish).
Mountain view in Lebanon Me, abseiling
Christmas and Millennium New Year - England
For those of us who are numerate the new Millennium starts in January 2001, however everybody seems intent on celebrating it in 2000 so we headed back to England where we could celebrate in style. We enjoyed the usual enormous family Christmas and saw in the New Year at my Brother-in-law's five-star hotel in Southampton. Despite the jet lag we were able to enjoy an evening of great food, live-music and a firework display at midnight.